Knorrit Flat, Nowendoc NSW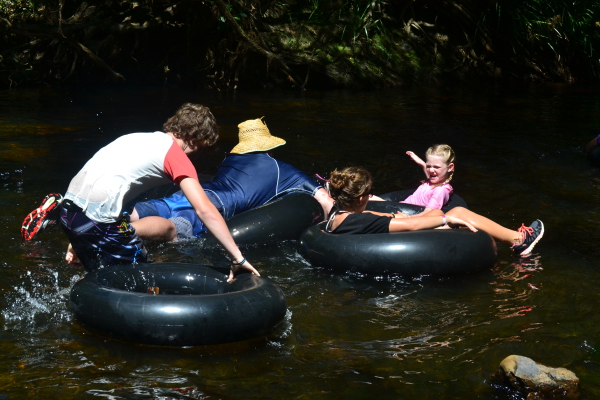 Knorrit flat riverside retreat Nowendoc NSW
Situated on the Nowendoc Road the riverside retreat has spacious campsites with or without river views and excellent amenities. There is a bush walk to explore and some 4wd clubs use it as a base the explore some of the various dirt tracks around the hills.
The high light was when we took the Courtesy bus out of the resort to drop us off and our trusty inner tubes at the bridge. The more experienced tube riders launched from the bridge, but we took the more traditional approach and slithered over the slippery river rocks. Floating either in the prone or feet first, the images will stay etched in the memory for sometime of the electric blue and orange dragon flies dancing just above the water. With the addition of white cotton seed butterflies and the serenity of the tree branches covered in grandfathers beard moss it was surreal. The small Rapids spaced along the river made for a minor challenge at times, hung up on rocks with the clatter of the inner tube valve echoing through the water.
All this entertainment cost three dollars for tube hire and the bus ride, money well spent.
Loved the place
Glenn