Roma/Chinchilla/Carnarvon Gorge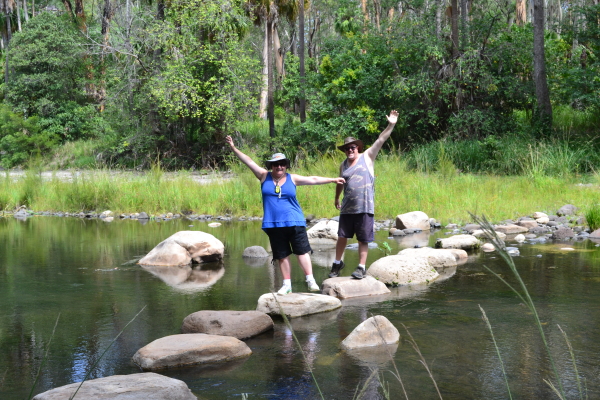 There are two types of caravaners; Those who like to plan, and those who like to "wing it" Although I admire those who "wing it" we are planners. Our trips are researched months in advance to correspond with events or festivals. Activities are decided, campgrounds and even second option campgrounds are chosen. It may sound ridiculous but I hate the thought of finding out about a great bushwalk, waterfall, swimming hole or free camp after we have left the area! Car trouble is never planned especially when the car is brand new!
On our most recent trip our vehicle started playing up on day one. My husband has been a motor mechanic all his life, thankfully he had the knowledge and tools to limp us into the central Queensland town of Roma to have it looked at under warranty. Just a small "hiccup", or so we thought!
We set up our Kokoda in the local caravan park so we could cool off in a pool. We usually prefer freedom camping but as it was forty-two degrees, a pool was very inviting. We had no idea our Kokoda would remain there for the next two weeks and that pool would help to cool us down on many a forty degree day!
Our vehicle was pulled apart to diagnose the problem and the necessary part was unavailable in Australia! Oh no! We were stuck in Roma without a car!
Now Roma is a nice little town, but not so little when you are walking everywhere in the summer heat! For several days we walked the tourist sites of Roma and over the duration of our stay we ate at four of the pubs, the bakery and a cafe. We sure spent our tourist dollars in that welcoming little town. Our plan was always to visit the Chinchilla Melon Festival. Chinchilla is a few hours from Roma and we had no vehicle to tow our Kokoda to the festival. Campsites for the festival had been booked out for months so I regretfully phoned to explain our situation and cancel our site. I do believe some things are meant to be, the manager had a cabin cancellation just moments before my call! Although we would travel in a loan car from the Ford dealership, we would still be visiting Chinchilla for the Melon Festival! Yippee!
The Melon Fest did not disappoint. Chinchilla has a population of around 5,000. There were over 18,000 people in town that weekend. I'm so glad we could be a part of this celebration. Country folk sure know how to have fun. Watermelon skiing, watermelon slip and slide, watermelon bungee, watermelon scones, watermelon punch, watermelon markets, so on and so on! Our fun time in Chinchilla gave us some respite from the worry of possibly having to leave our Kokoda in Roma indefinitely while we would come home in a hire car to get back to work on time. This was a very real, and worrying possibility.
At this point we were touched by a genuine heartfelt offer from a fellow Kokodian. The Kokoda Caravan Owners Facebook page has always been a friendly, supportive group. We are strangers from all parts of the country, although we have developed friendships through our discussions on the page. Many of the members are friends that we are yet to meet. We had a generous offer from a fellow Kokoda Caravan Owner to drive over 5 hours from their hometown to Roma and tow our Kokoda somewhere safe (or back to their place) rather than it be left unattended while waiting on the part. This beautiful couple offered something that still warms my heart today. We were fragile with the uncertainty we faced and this kind offer from people we had never met confirms to me that Kokoda Owners are a very special bunch of people. It was an offer we hoped we would not have to accept.
After celebrating with the town of Chinchilla we headed back to our Kokoda in Roma. We were so lucky to get a cabin for the festival, but honestly we felt like fish out of water. We were eager for an update on the much searched for part, we had been in Roma for over a week and were starting to get restless. Over the next few days our warranty liaison person would perform a miracle and pull a part from nowhere. We don't know how, we don't know where from, but it was on its way! The relief was unbelievable. It meant our Kokoda would not be left alone indefinitely 1000kms from home.
Our intention on this trip was also to visit Carnarvon Gorge, Queensland. Now that we knew a part was only four days away we could use that time to travel to The Gorge. We used a hire car and stayed in their cottage. Our plans had been altered but we made the best of the situation we found ourselves in. We were caravaners sleeping in a cottage, but we were still caravaners. We cooked in the camp kitchen and we chatted with others Campers and back packers at happy hour. We missed our van but staying in the cottage meant we still got to experience Carnarvon Gorge. We are so glad we did. Carnarvon Gorge is spectacular.
The main walk through the Gorge is fifteen kilometres. This would be one of the most beautiful walks we have ever done. There is a huge aboriginal significance and the natural beauty is second to none. Yet again, it was forty degrees. We took electrolyte replacements and as much water as we could carry. It was hot and tough, but so memorable. After spending three nights at Carnarvon Gorge without phone or internet it was time to drive back to Roma. As we came back into range we were welcomed with the great news that the part arrived early and our car was ready to go. After two weeks in Roma we were off. We couldn't hook up our Kokoda quickly enough. We were itching to set up camp somewhere by a river, sit in our camp chairs and look up at the stars. We really missed the experience of caravanning, but thankfully, we still got to experience most of our planned events.
So will we continue to be planners? The answer is yes. Life doesn't always go to plan but as long as we can make the most of every situation. We had a wonderful time in Chinchilla, Carnarvon Gorge was spectacular and we learnt so much more about Roma than we would have. We also realised the sincere mateship that has developed within the Kokoda Caravan Owners group. We are thankful to be a part of that. We have always been, and will always continue to be Happy Campers!
Vicki Bryant