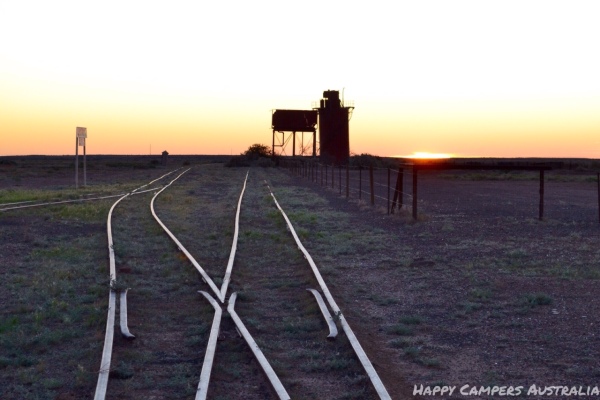 We are the proud owners of a Kokoda XTrail Digger. We have always been keen campers and had progressed from tent to soft floor camper to a Jayco camper trailer. The decision to purchase a full caravan was well researched as we were looking for more comfort but didn't want to sacrifice the off road capabilities that come with smaller trailers. Our decision to purchase a small Kokoda off road Caravan has been ideal.
The first real test for our Digger was a tour of three iconic roads in Australia's outback, Strezlecki, Oodnadatta and Birdsville Tracks. Our van was less than 6 months old and she was about to be challenged. We figured we were either sensible or stupid (sensible to undertake this trip under warranty, or stupid to take a brand new van on these treacherous roads) She performed brilliantly!
As early as day 2 of our trip we had left the bitumen behind. We were on route to Cameron Corner. Cameron Corner is the Corner of 3 states, Qld, NSW and SA. It is a destination for serious off roaders, and road conditions vary greatly from day to day. The clouds were building as we left Mataranka, and by the time we arrived in Tibooburra it was raining. Rain in the outback is to be rejoiced, but rain makes outback roads sticky and before long the roads were closed to all traffic. We were stuck in Tibooburra for a few days. Now Tibooburra is a great little town, it has 2 pubs, a general store, caravan park and even internet coverage! Something that is very rare out that way, in fact, at one point on our trip we had 12 consecutive days with absolutely no phone or internet. This country really is huge!
By the morning of our third day in Tibooburra the sun was shining and everyone with off-road camper trailers was eagerly awaiting the announcement that roads would open again. We were the only caravan to travel the Cameron Corner road that day. Other larger vans decided to wait an extra day or 2, but the roads were open and the Tibooburra locals were confident that our tough little van would cope with the conditions. We were confident too. We drove our Kokoda carefully on the sticky roads and across muddy clay pans. There was no problem and we arrived safely in Cameron Corner in time for Happy Hour.
The next morning we set off west to join The Strezlecki track. As a touring road the Strezlecki Track was a disappointment. The track is used regularly by trucks travelling to and from the mines so the road is well maintained and most caravans would handle this route easily. In our opinion the best thing about the Strezlecki Track was the free camp at Montecollina Bore. It's an oasis in the outback.
We left The Strezlecki Track at Mount Hopeless on route to Arkaroola in The Flinders Ranges. Now this road was more to our liking, remote, narrow and sandy for 200km! There had been no fuel since Cameron Corner, so we refuelled from our jerry cans on this track. The reason for our detour was to visit Arkaroola to do the world renowned Ridgetop Tour. Wow! This tour was everything they say plus more!
After a week or so in The Northern Flinders Ranges we joined the Oodnadatta Track at Marree. We were excited to finally be on the Oodnadatta Track and also happy that the roads had dried out significantly. The corrugations started just a few kilometres up the track and the realisation that this was real began to set in! Washouts, potholes, creek crossings, corrugations and deep ruts. Red flags marking areas of the road to take care could be seen a long way ahead, so there was plenty of time to slow down. We were loving the adventure, and our Kokoda was seemingly loving it too. There is so much to see along the track, we enjoyed it all but our highlight was definitely Lake Eyre. There are also plenty of idyllic campsites along the way. After travelling the Oodnadatta Track north we then turned around to do it again, southwards! Our Digger never complained!
Once we arrived at the base of The Oodnadatta Track we turned north and we were on The Birdsville Track. Our Kokoda was happily following us. I'm sure she was smiling! The Birdsville Track was vastly different to the Oodnadatta. The road was full of sharp granite-like rocks so it was tricky to find where to put the tyres. The landscape at the bottom of the Birdsville Track was far from exciting, we were pleased to arrive at The Mungerannie Pub and hot mineral pool, which was our campsite for the night. Thankfully, the next day the rocks on the track were gone and the road turned sandy. The landscape became very picturesque. It was an enjoyable drive to the town of Birdsville. First stop was the Birdsville Bakery for a curried camel pie. We had heard so many great reports of the camel pie and it didn't disappoint.
From Birdsville we travelled through outback Queensland and it was still several days before we hit bitumen again. We travelled a total of 9000km, almost 7000km was dirt, sand or rock! We expected our Kokoda to do well, but we didn't expect her to excel! Red dust is unavoidable in Australia's Outback and we don't consider dust a problem. We dustproofed as much as we could and the inside of the van was ok. Whilst it came inside, it was just a matter of sweeping the floor. Some people get all wound up about dust. Relax, enjoy the moment, it will clean up later. The dust is like a badge of honour, wear it proudly! We sure did! Not everyone can say they have travelled "The Real Australia" We encourage you to get out and see it! Maybe, one day, you will be in an off road Kokoda Caravan too!
Vicki and Glenn