Glenn and Vicki are Happy Campers Australia. We embarked on full time travel back in October 2018.
Initially we intended on taking a "gap year" from work, a time to de-stress and enjoy touring Australia. The trouble is, a year went too quickly, and we still had so much more to see. We have stretched our "gap year" and hope to continue as long as we can. We have not worked much. That might need to change one day, but at the moment we are being tourists most of the time.
We have recently clocked over 100 thousand Km's since we left home. If you do a lap of Aus following Highway 1, you can do as little as 20 thousand Km's. But we have not been doing a typical lap. We are zig zagging all over the country to try and see all the good bits!
Unfortunately Covid struck when we were in Western Australia, and we were sent 5000Km home to NSW. That explains the 400km section of our Australian map that is incomplete. So disappointing!
Since Covid, we have spent most of our time in our home state of NSW, which explains the concentration of travel in that state. We have started interstate travel again recently and plan Queensland and Cape York this year, and more of WA next year.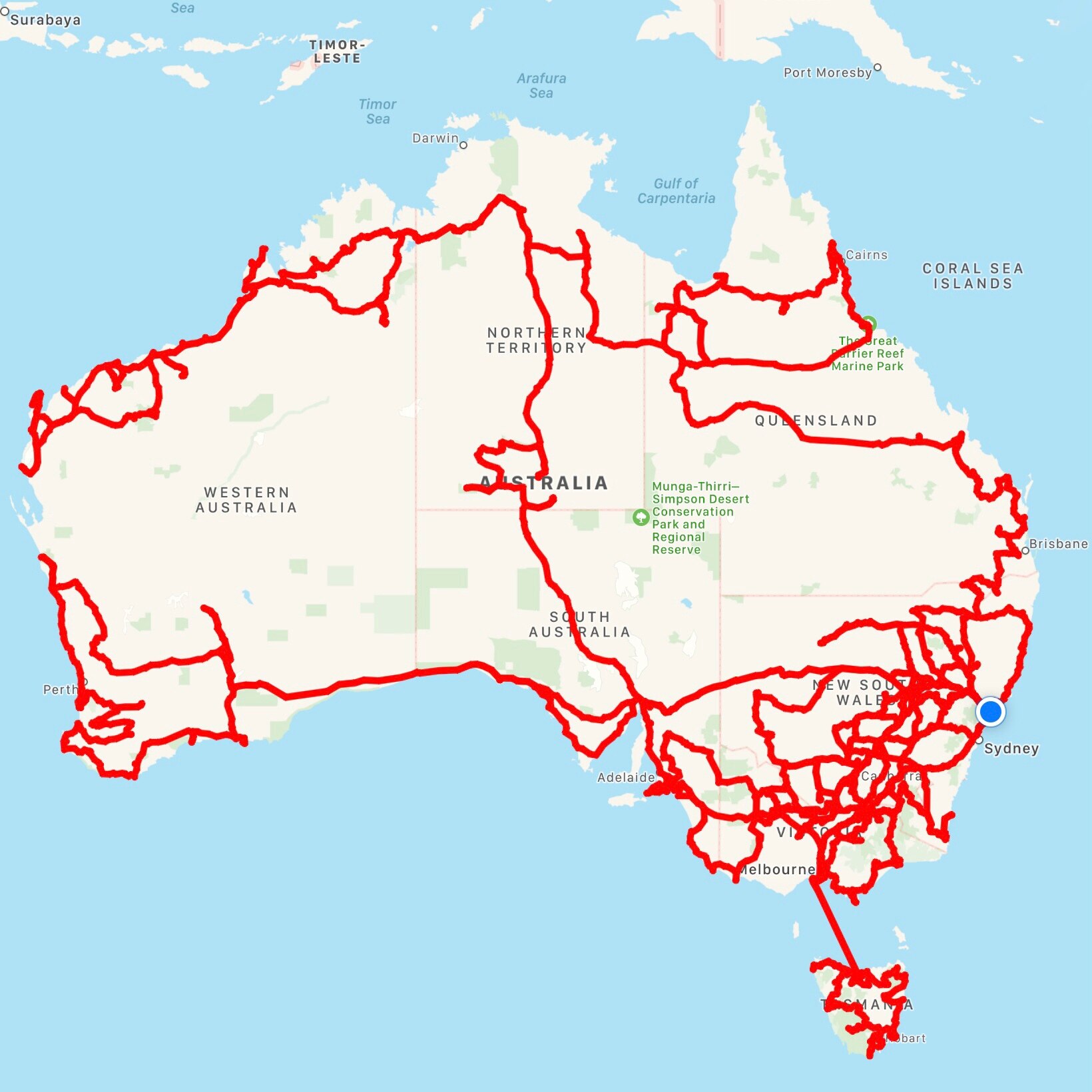 The map shows our 100 000Km's of travels since 2018.
Our home is in NSW, so we have visited a few times, trying to take a different road each time. We also spent most of 2020 during Covid, exploring NSW to avoid state border closures.
We had been lucky to see a lot of Australia before leaving full time, this map only shows our full time travels. We have previously visited places not marked on this map, such as Darwin, Cameron Corner and Birdsville Track. We will keep traveling and possibly visit those places again.
We could talk about the amazing time we have had, and all of our fantastic experiences, but not today.
This time we want to share our vehicle highs and lows. Obviously our tow vehicle has done the hard work taking us all that way. It needs to be serviced & maintained well, there is lots of preventative maintenance to check along the way, and then of course, there are the times when things "just go wrong"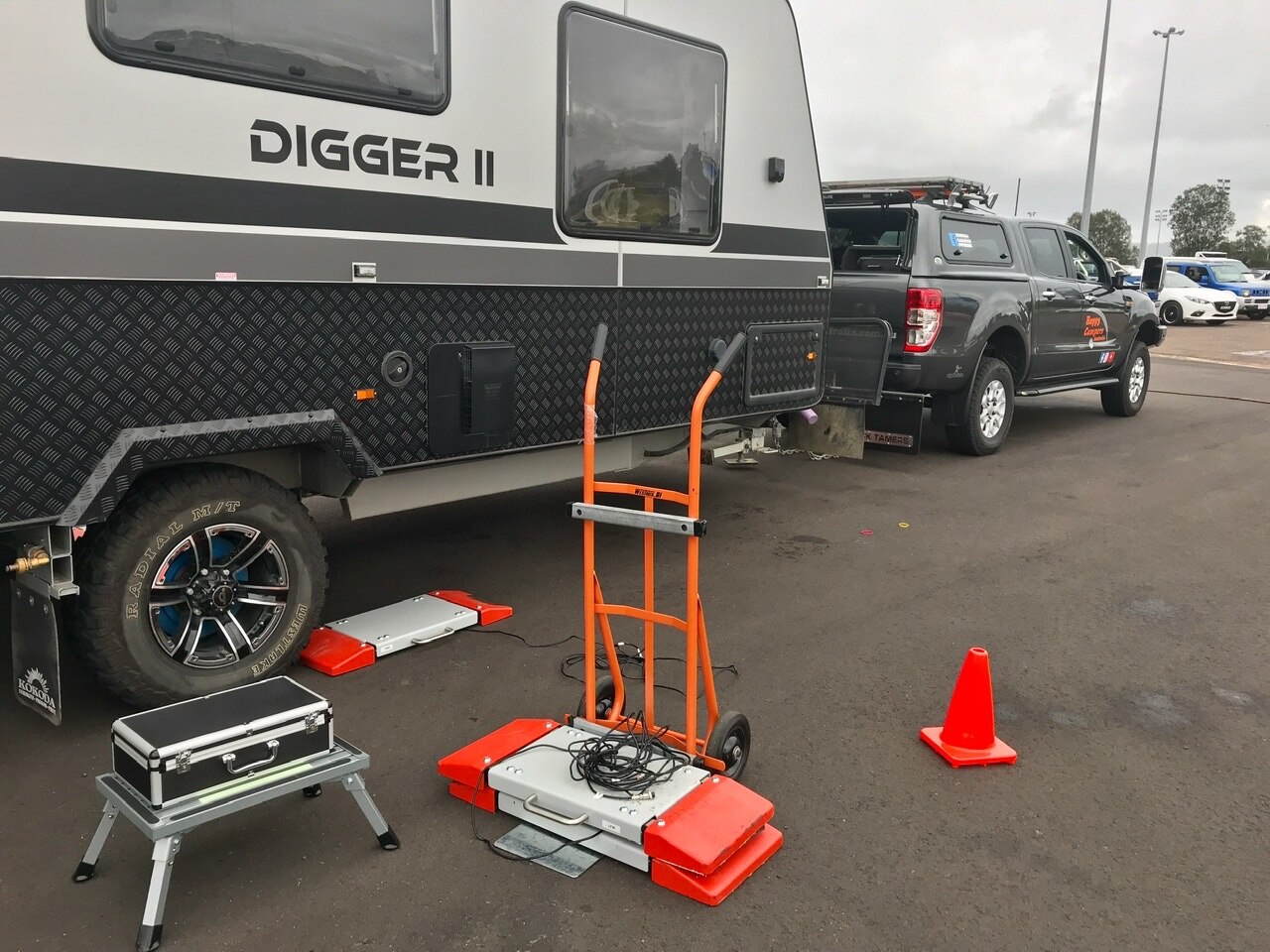 Weight is very important!
We are always conscious of our GCM & GVM. Our first weigh was at a public weigh bridge before we left full time. This is OK as it gave us an idea of overall weight.
Since then, we have had two more complex weighs by mobile caravan weighing businesses. These normally cost a few hundred dollars but give you a very clear picture of weight over each wheel, ball weight, GVM and GCM. They can also advise on how to redistribute weight if needed. They are much more accurate and detailed than a public weigh bridge. 
You should always be conscious and aware of your weight.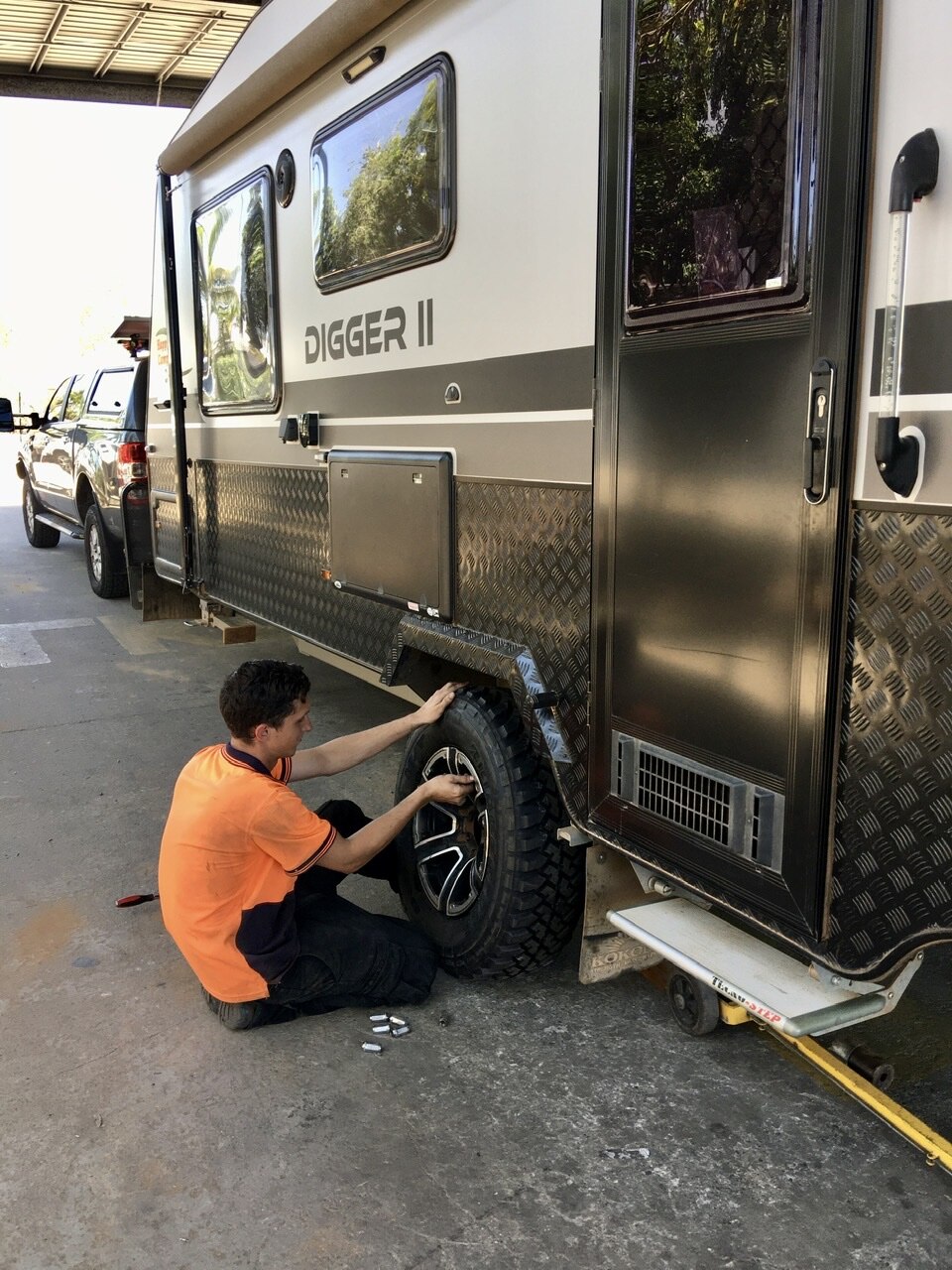 Tyres are what get us there! They are like shoes for our feet. I like to think if I was walking all that way, I would need new shoes.
We have had 2x new sets of tyres for both the car and caravan over the last 100 thousand km's. Glenn regularly rotates all tyres, he is a qualified mechanic and also does regular checks to bearings and brakes.
We have also needed 1x wheel alignment to the caravan and 2x wheel alignments to the car.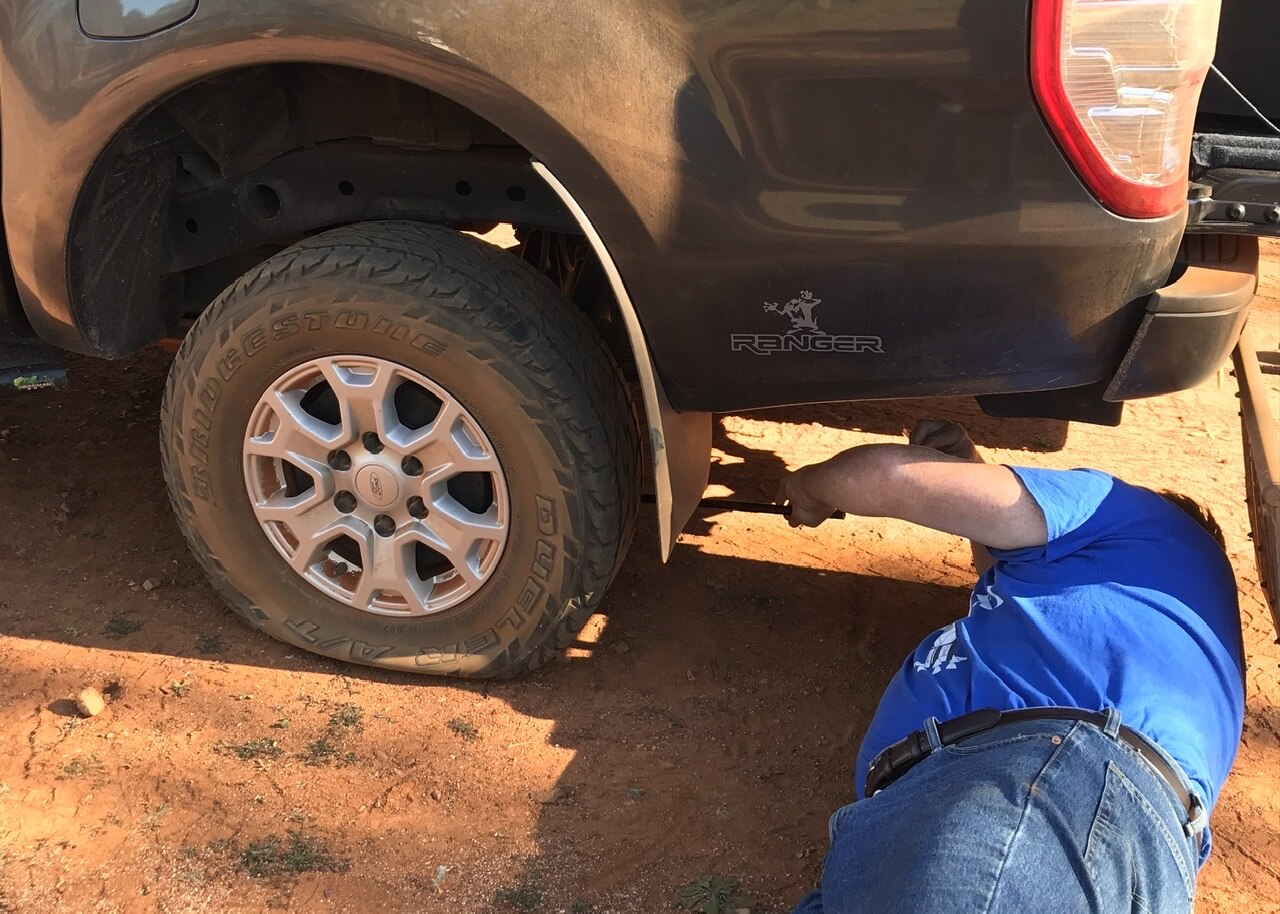 Our only flat tyre was on The Darling River Run, near Louth. Lots of lovely red dust to lay on while changing it. Lol
Glenn visually checks the tyres on car and caravan every single day. When traveling on the dirt he checks them every time we stop. On a few occasions he has noticed unusual wear and detected a slow leak once that could be repaired at our campground.
These regular checks, and taking action to fix the issue early, have almost certainly prevented bigger or possibly dangerous problems from occurring.
By far our biggest misadventure has been a car accident. In March 2019 we were involved in an accident that destroyed our tow vehicle. It was not our fault, the other driver just did not see us and pulled in front of us. We still find it hard to believe that the driver did not see a 4WD towing a caravan, but that is why it is called "an accident"
Thankfully no one was hurt, but it was a huge inconvenience searching for a new vehicle while being interstate and unable to tow our caravan. We are thankful to several great friends who came to our rescue. They came together in different ways, to eventually help get us back on the road in our brand new Ford Ranger.
See details of our new Ford Ranger fit out in our YouTube.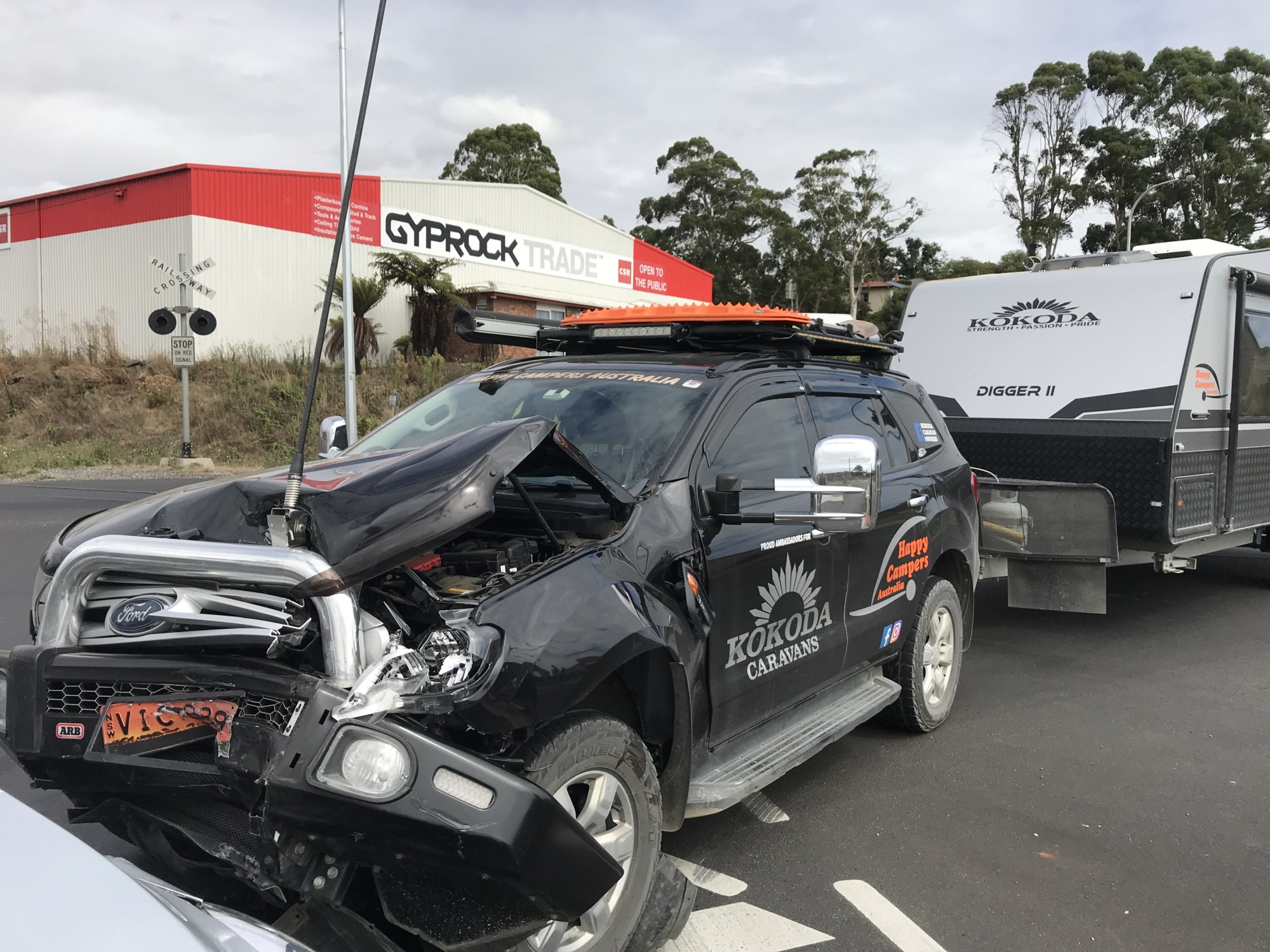 Another mishap was the time we got seriously bogged and needed to be pulled out by a tractor!
We camped at Cobar on a beautiful clear night, we sat around a campfire and watched the stars. In the early hours of the morning we heard the gentle sprinkle of rain on the caravan roof. It was very light rain.
Check out our YouTube for the footage to see what happened by day break!
PS. Police were on duty at the water affected areas in Cobar, they were comfortable for our vehicle going through water over the Barrier Highway as seen on our footage. We would never drive through floodwater.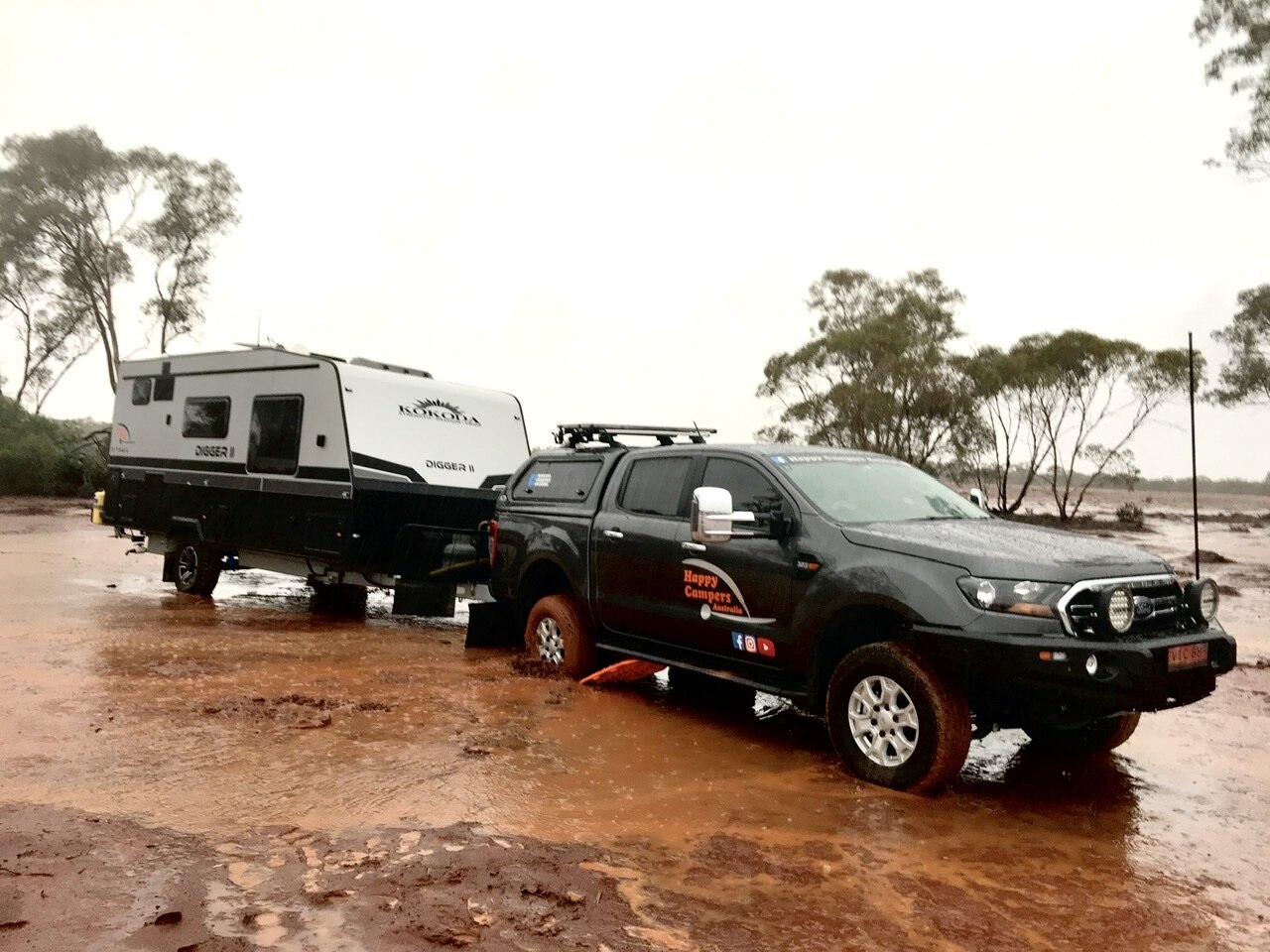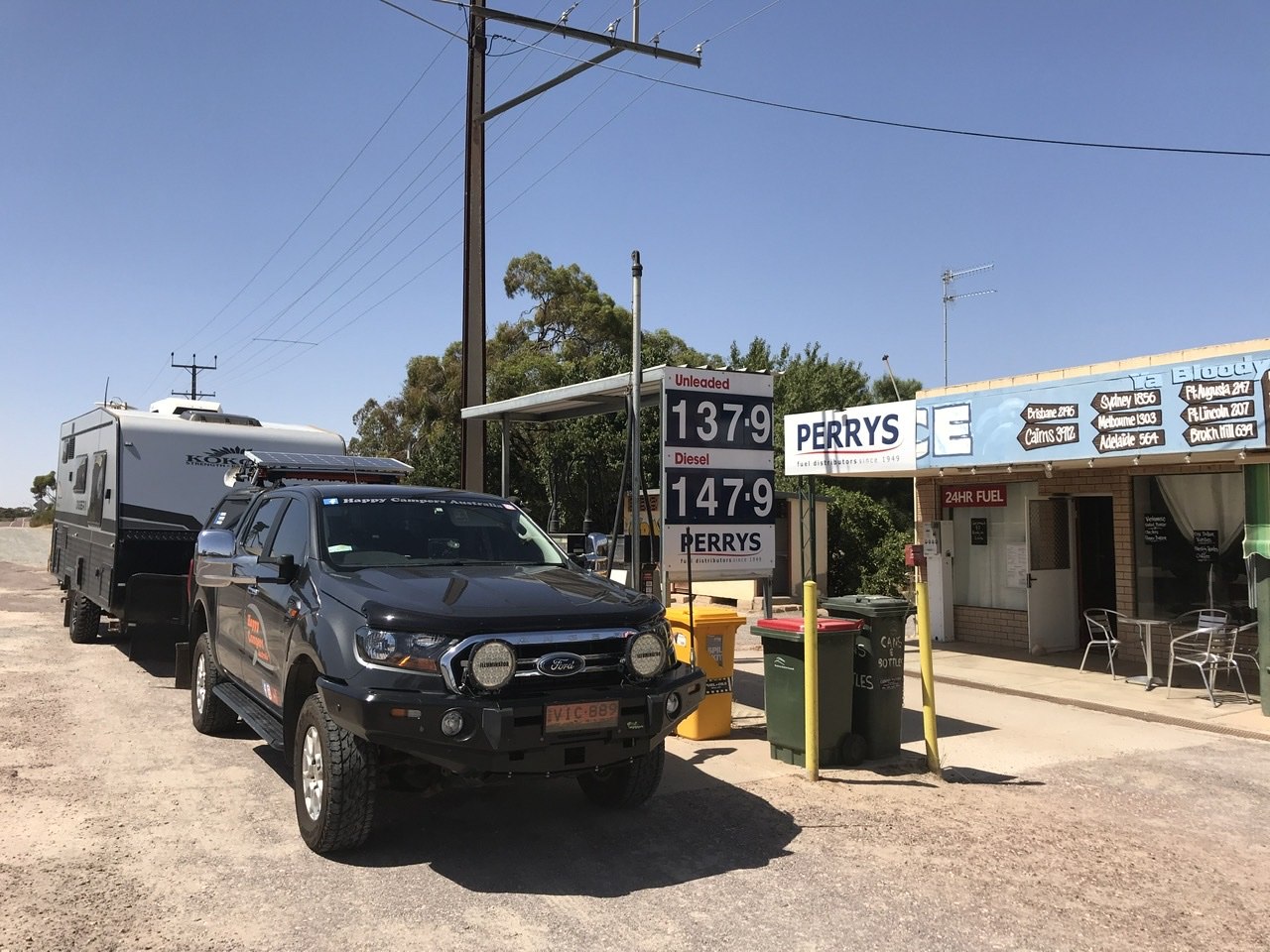 As a qualified mechanic Glenn can do roadside repairs and maintenance, but we ALWAYS have regular services completed with Ford. Service intervals seem to come around extremely fast when we drive lots of Km's, but it is important to keep the car serviced according to specifications. This is not only important for new car warranty, but also for peace of mind.
Caravan servicing and maintenance is done by Glenn. He checks bearings and brakes every few months and performs general maintenance on and around the caravan every few days. 
Our Ford Ranger does not have a long range fuel tank. We find it hard to justify the cost, and don't wish to carry the extra weight. When traveling remote we carry one 20 litre jerry can of fuel, we have never really needed it, but it is comforting to know it is there if we misjudge fuel consumption due to headwinds etc. We are happy to pay whatever the price, rather than carry an extra 80kg.
In 100 thousand Km's we have filled the tank over 300 times, and spent $23 000, averaging 15.48L/100km.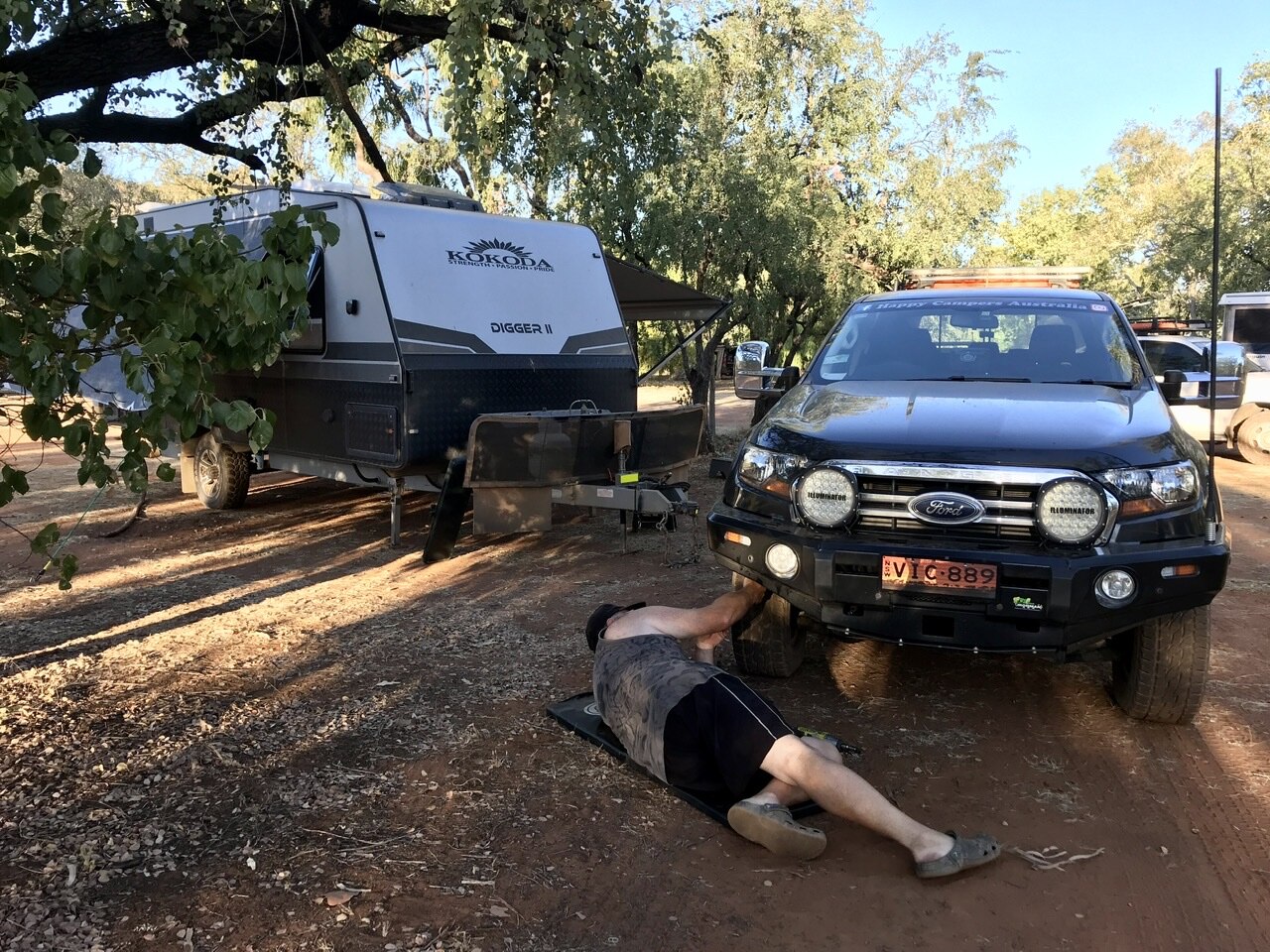 Everyone who travels Australia goes at their own pace. We find because we are "touring" and not simply "living on the road" we travel more than some, but many people can do their lap in much less.
We don't drive huge distances, we prefer driving just a few hours a day to get to the next campsite. We usually stay in one location for a few days. Its hard to believe we have traveled 100 thousand kms!
We are so privileged to have traveled and experienced so much of Australia. We have more travel  plans in mind, so keep following our adventures!
We love being Happy Campers Australia 😃