We have owned three different tow vehicles over the last six years or so. 
A short summary of our experiences with each vehicle is listed below. 
Each of these vehicles have towed our full size caravans. The Kokoda Digger was our first full sized van and three years later we updated to the Kokoda Digger 2, both single axle Caravans with no Weight Distribution Hitch used.
Firstly we used a 2014 Mitsubishi PC Challenger which was purchased to pull our Jayco Swan Camper, and performed adequately. I found it a very good 4WD especially whilst on a visit to Moreton Island, roaming the beach and inland sand tracks with ease. Quite a narrow vehicle, it made it easier to meander bush tracks. 
After the purchase of our first Kokoda we upgraded the rear coil springs on the Challenger to Kings 30mm, also adding Drifta draw and fridge slide with additional battery and solar panel on the roof racks and Clearview Mirrors. Fuel consumption range from 10.5 to 17 l/100. It was not the best tow vehicle for a full size caravan due to limitations of Auto transmission. A few months after purchasing the Kokoda caravan we updated to a brand new 2016 Ford Everest.
The Ford Everest had the ingredients to be excellent at what it did, but was unreliable from day two when the Adblue warning came up! This was a dealer issue that the then new Adblue fluid was not topped up upon Pre-Delivery (which made me furious as I worked for the Dealership). Swapping and modifying the Draw system, Battery and solar panel/roof Platform into a wider heavier vehicle, with the addition again of upgrading the the rear springs and getting the Clearview mirror bases swapped over to fit the Everest. The addition of an ARB Sahara Bar made sense for the increased use across Outback Australia. The Everest was a very comfortable vehicle but prematurely replaced due to a road accident in March 2019. It towed excellently, was stable and stopped well due to Disc brakes all round. 
…….. Although, with hindsight, the demise of this vehicle could have been a blessing in disguise. We had a love / hate relationship with the Everest. Adblue was a pain, difficulty getting it off the beaten track. Additionally, a persistent fault code relating to turbo boost control, plagued the car when it was asked to tow in hot weather. This was a common occurrence while towing in summer, resulting in the Everest going into limp mode. Despite several attempts by Ford to rectify the problem, it was never resolved. Fuel consumption would average out to be 14.3 l/100.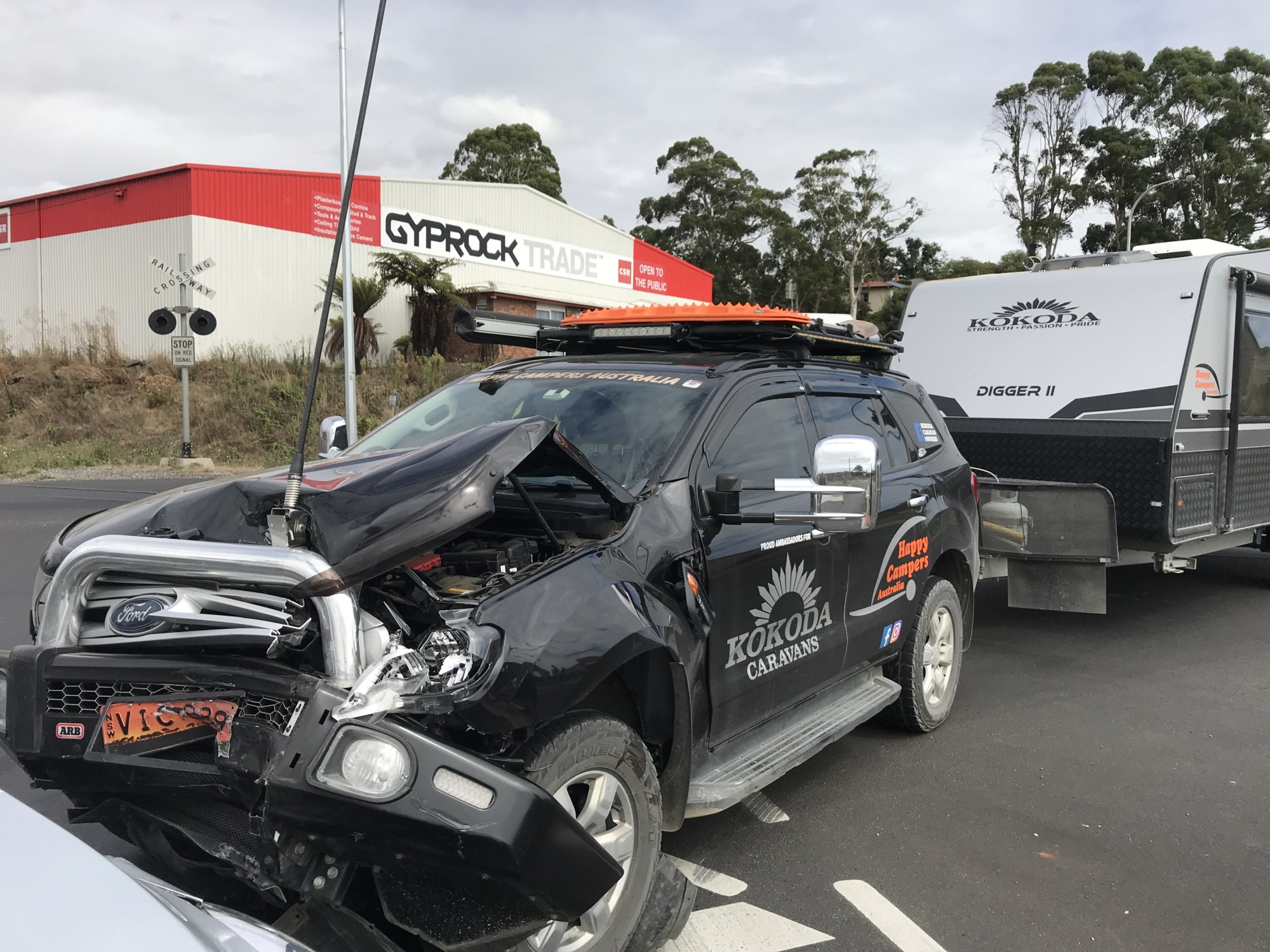 A runout 2018 model Ford Ranger LXS with Sync pack was chosen as a replacement for the Everest but this time an Ironman GVM upgrade was fitted Pre registration from Wangaratta Off-Road, just to future proof ourselves as much as possible. Having swapped all accessories, drawer system, dual battery and solar set up from the damaged Everest I was surprised of the nervous feel of the caravan whilst towing. Power was better than the Everest, but only just. 
Purchasing an adjustable height hitch and lowering the front of the 'van restored its stability and the van now towed like it should, and like it had with Everest. Just recently we have surpassed 30000 kilometres in the Ranger. Throughout this time, we were mostly towing with little issue apart from dust ingress to the tub and a squeak in the suspension. I just can't find where the squeak is coming from, but otherwise all has been good. Fuel has averaged 16.6 l/100.
Overall, the decision to change to a Ford Ranger has been positive. Although the comfort of the drive vehicle has been sacrificed, the 4WD ability has been surpassed. (This very possibly could have been a result of the GVM upgrade performed prior to registration) The GVM upgrade also gave higher clearance on a daily basis. 
Below is a link to our You Tube clip showing the modifications we made to our new Ford Ranger. 
This article is purely "our experiences" but was written to help others make an informed decision If looking to purchase a tow vehicle. 
Each of these vehicles have been suited to the type of caravanning, towing and travel that we were doing at that particular time in our caravanning journey. 
As many of you know, finding the right vehicle to suit your own personal requirements is very difficult. Everyone has different wants and needs. 
Our needs might be different to yours, but the information provided might help with your decision.