Uluru is a special place that so many Australians hope to visit one day. Our first visit was nine years ago, we were taken by surprise by the feeling you get by just being there. It's an almost spiritual feeling that no one can understand until they visit for themselves. For many years we have been telling our friends about this amazing feeling, many have visited since, and agree.
I don't understand why, I have no indigenous heritage, I am simply very proud to be Australian.
We have always wanted to return, and after all these years, we came back for the second time.
As we drove towards The Rock it took me by surprise again, the same overwhelming feeling. I knew what it felt like but didn't expect to feel it for a second time. The first sightings of Uluru made my heart swell, I was so emotional I couldn't talk. I felt silly, but had no control.
What is it about this place?
I have no idea, but thousands of Australians feel this way.
There is no doubting the special and spiritual bond that all Australians have with this iconic landmark.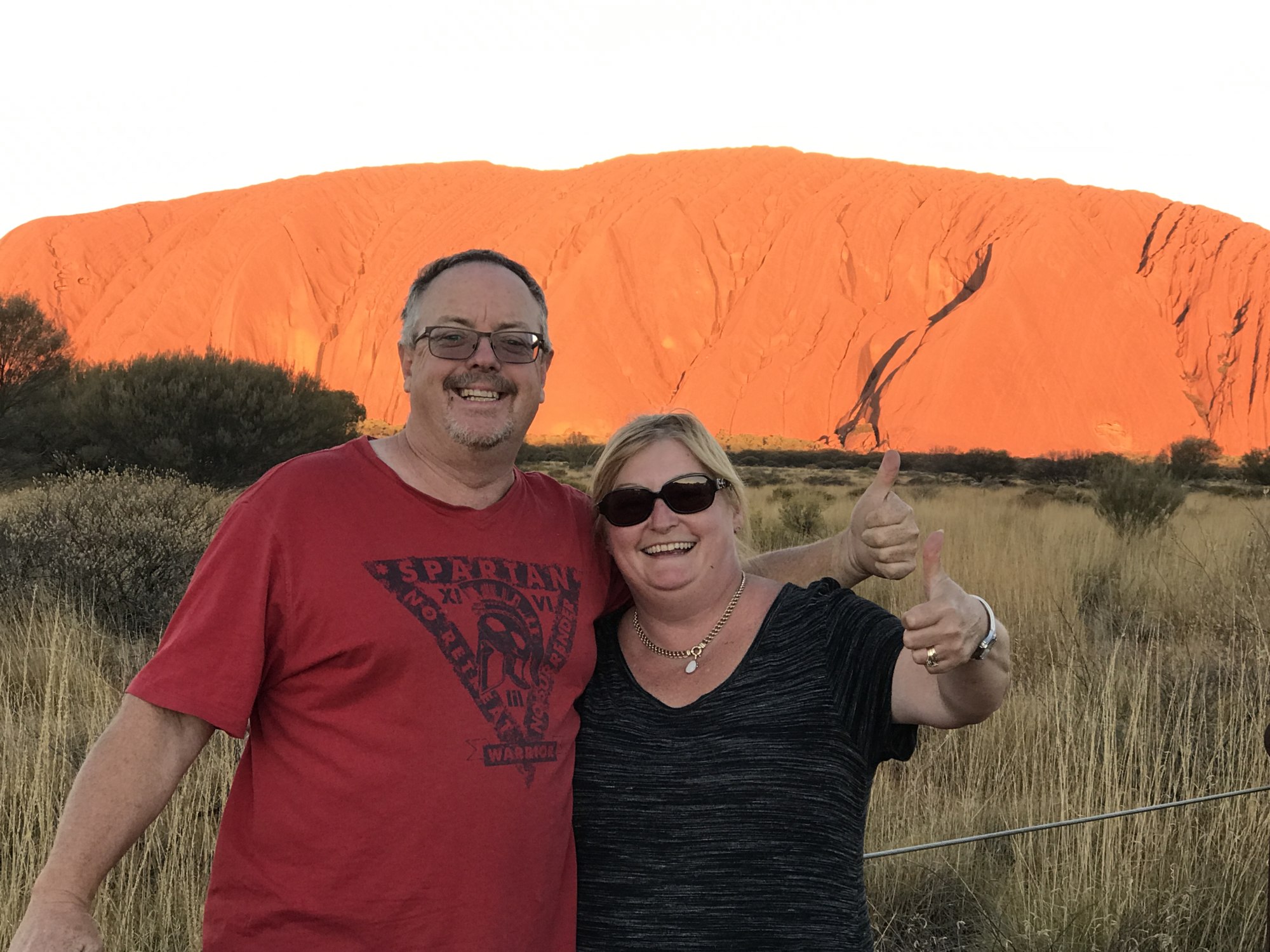 Camping at Uluru.
We understand that there are different types of travellers, some who plan, some who take it day by day, and some who prefer to free camp.
If you intend to camp while visiting Uluru you have a few options we will explain below:
Option 1:
Book a site in advance in the Ayers Rock Campground.
This option gives you power and water hook up to your van (quite rare out here)
This is a caravan park, so your sites are marked. It does book out in advance.
Although we generally free camp, we took this option. We booked a few weeks in advance and they had a special pay 2 nights, stay 3, so usually $49 per night, it worked out at just $33 a night. A luxury we were happy to pay for given the unlimited water to your van.
Option 2:
Don't pre book and you will probably end up in the overflow campground.
Now this isn't always bad. If you don't have a clear idea of your arrival date you will still get a site.
The overflow is unpowered in a large structured camping area with no numbered sites. The cost is $30 per night.
When we were there in May it looked very comfortable. Campers were not camping "on top of each other" although I have heard that in peak times the overflow becomes so crowded that you are often "parked in"
Option 3:
Curtin Springs is 80km from Uluru. It is the last roadhouse before arriving at Yulara. Curtin Springs offer free unpowered camping and cheap powered sites. We actually free camped here the night before so we could arrive in Yulara early. We spoke to other campers in Curtin Springs and many people base themselves there for a cheaper alternative. Keep in mind that it is about an hour drive, so sunrise and sunset viewing are very early or late nights.
This could be a good option though if you have limited time and just want to do a day trip to The Rock.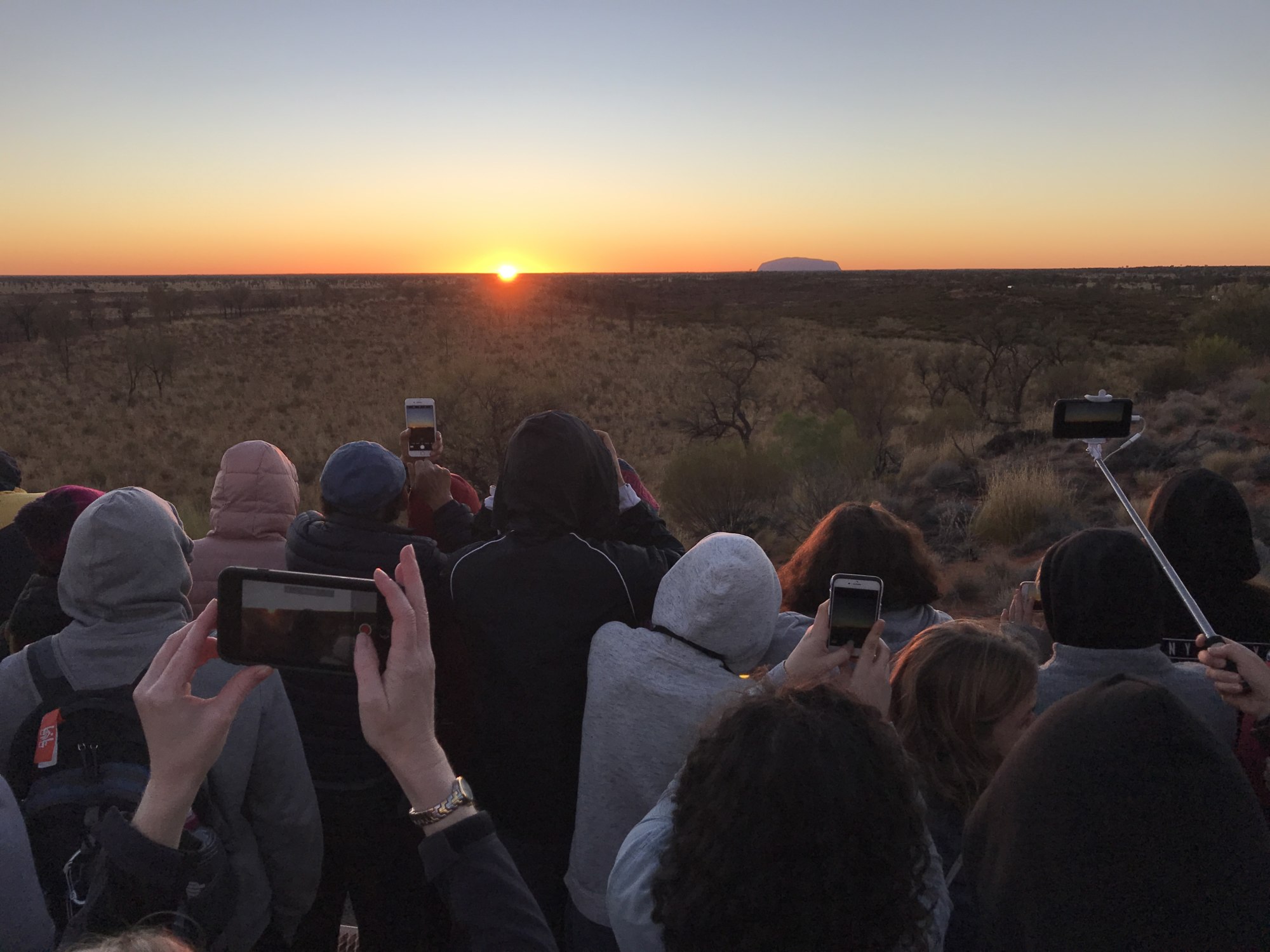 Sunrise viewing area - Kata Tjuta
Although sunrise over Uluru and The Olga's is amazing, fighting the crowds for that perfect shot makes you think twice?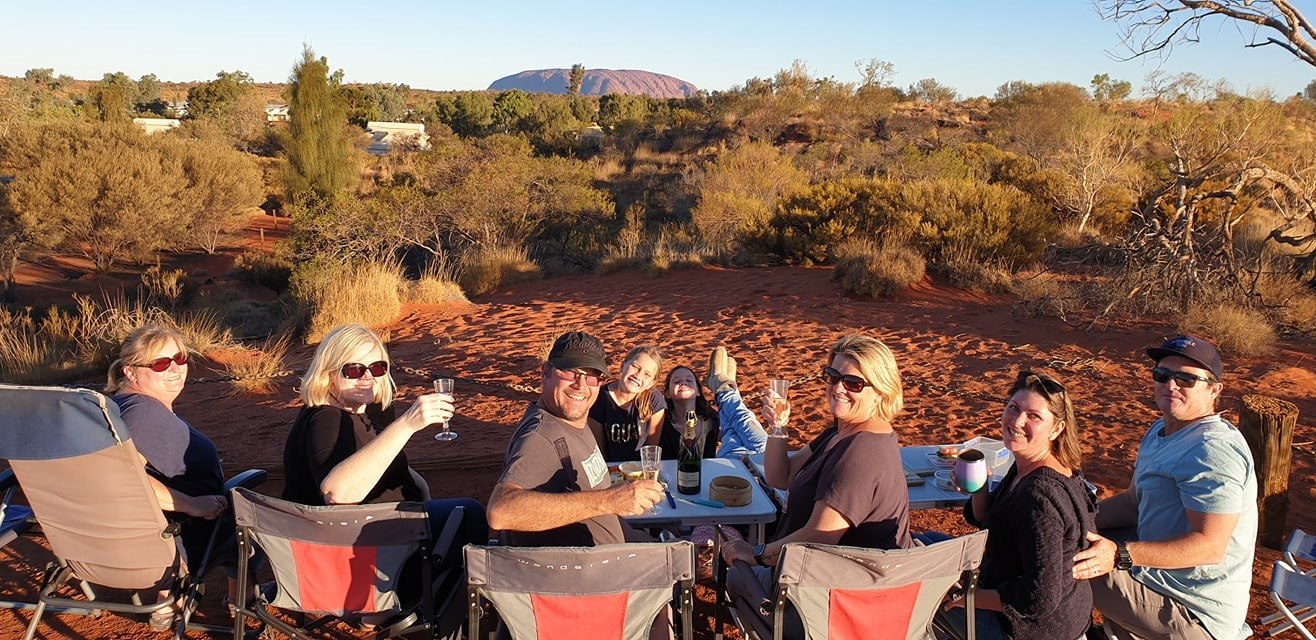 Sunset drinks from the campground with some camping buddies.
The lookout from the campground gives a nice view of sunset and it was lovely to spend time with our camping friends, although the sunset viewing area in the National Park gives the closest view.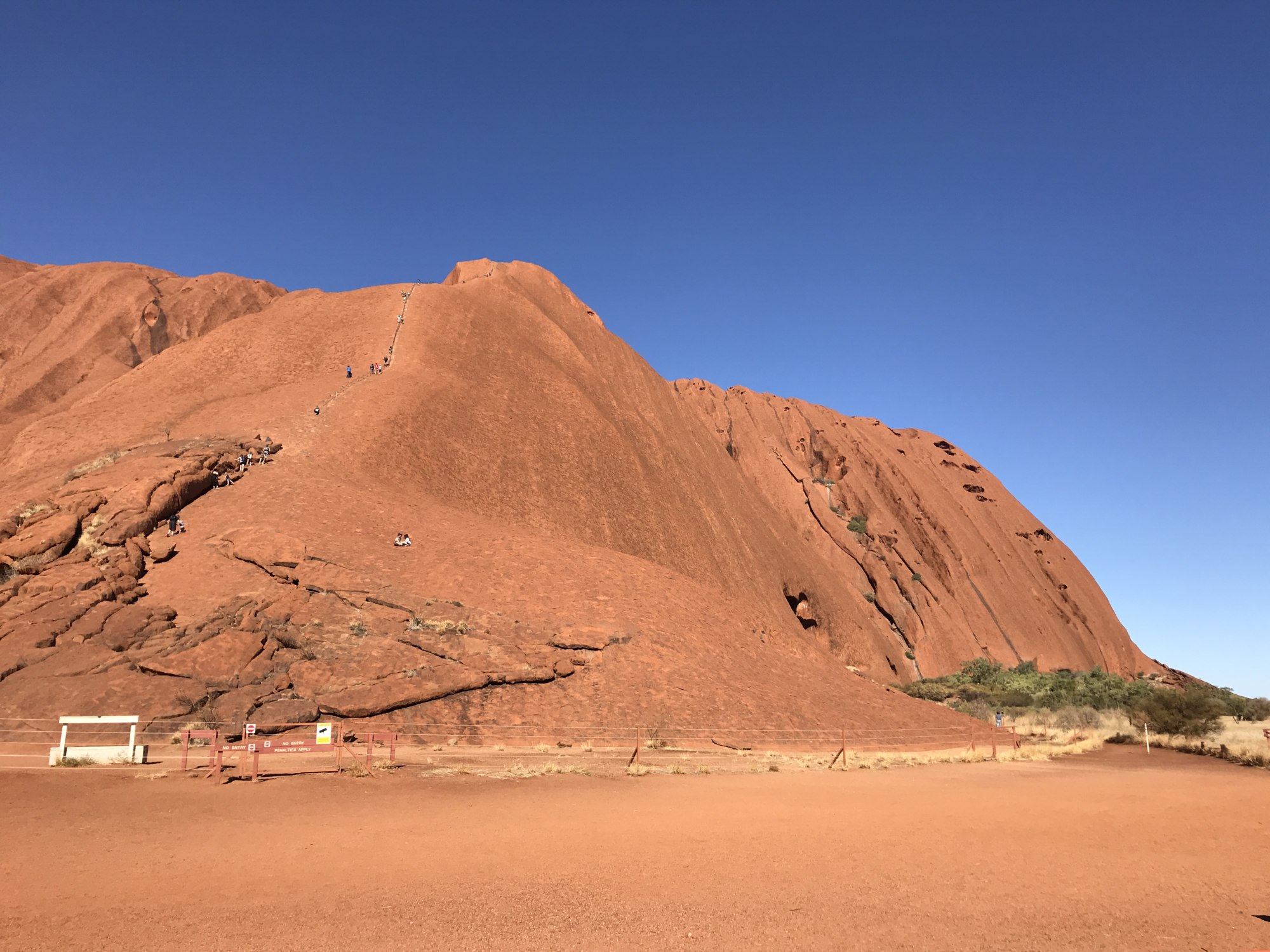 Climbing Uluru has always been discouraged, but is allowed. In just a few months time, climbing this sacred site will be banned. Until then, tourists are travelling from all over the world to climb.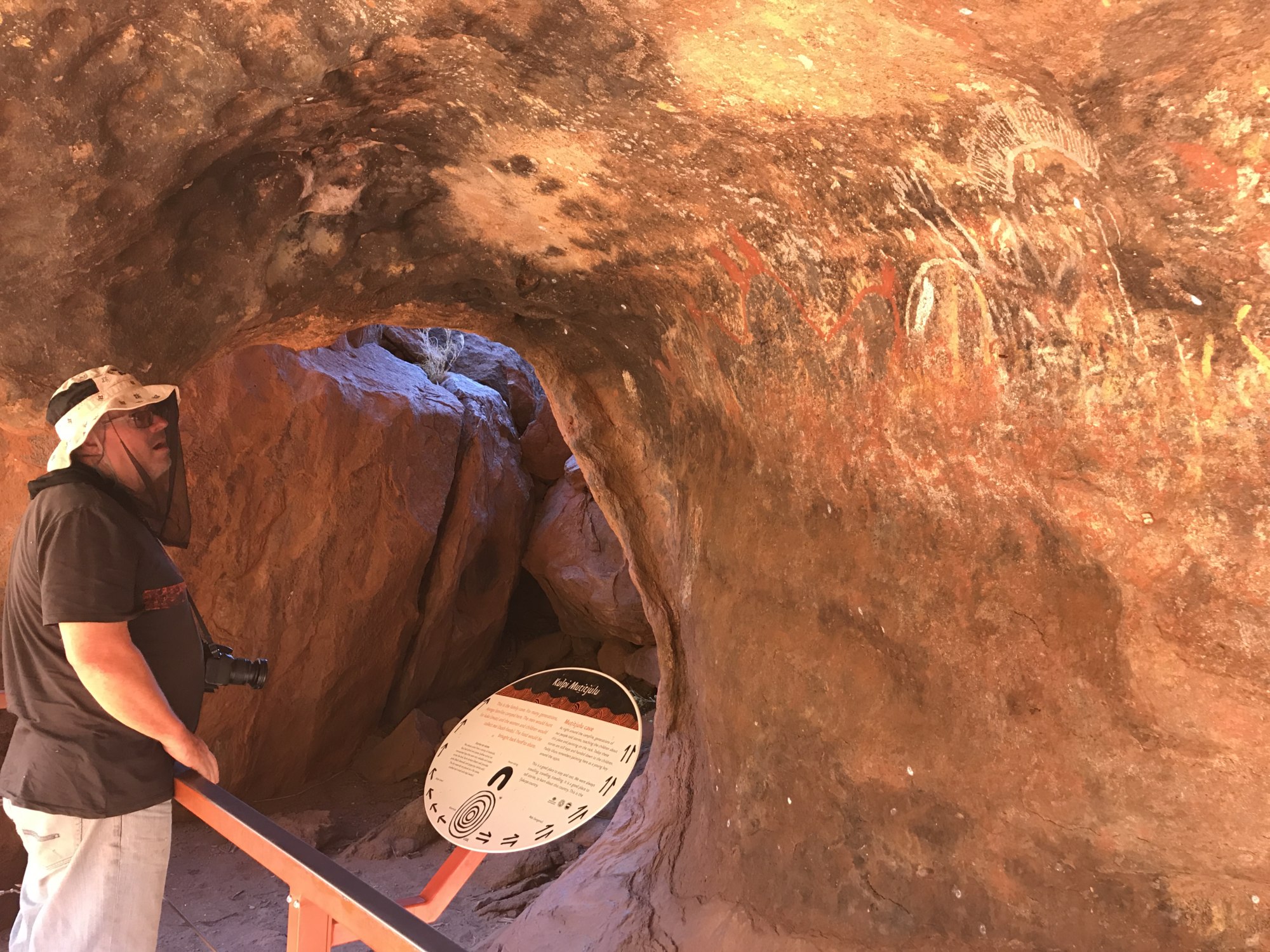 Walking around the base of Uluru is around 9km and takes three to four hours. The walk will reveal significant ancient rock art.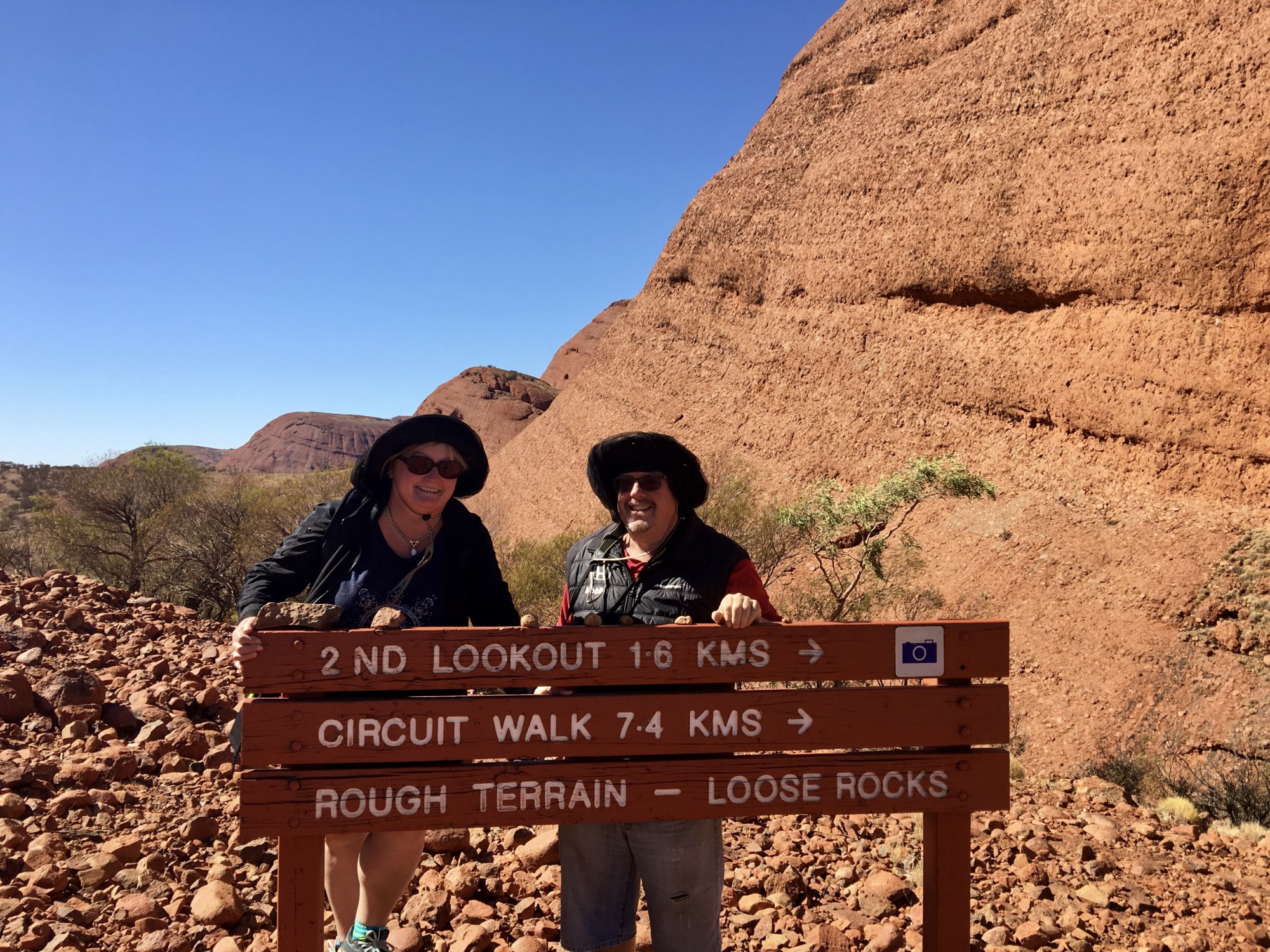 The Olga's are about 30 minutes past Uluru and are worthy of spending the time exploring. The scenery differs from that of the Uluru Base walk, with The Olga's revealing spectacular gorges.
While staying at the campground you are in the township of Yulara.
You have lots of dinner options and a well stocked IGA Supermarket, ANZ bank, post office, souvenirs and gift shops. The supermarket has "outback" pricing, as you would expect, but we were surprised to find fresh croissants! A perfect addition for a sunrise picnic!
While staying in Yulara you have access to the camel rides, Harley Davidson tours and helicopter flights before entering the National Park.
Access to the National Park is a 3 day pass for $25pp.
Sunset at Uluru is what people go to see. The rich colour changes as the sun drops become a lifetime memory.
Click on the link below to see our amazing time lapse footage of an Uluru sunset, taken over 2 hours, culminating in a clear, star filled night sky.
Now this is why you need to visit Uluru!
Do yourself a favour, you really need to experience the same emotion that we feel!