We usually choose to free camp but while travelling The Gibb River Road we were happy to stay at campgrounds, some within cattle stations as large as 3.5 million acres!
We came from the Eastern Kununurra end and the free camp options were minimal anyway. They were just a pull off on the side of the road with no real attraction. After the half way point the free camp options were more plentiful and more attractive but we were enjoying the station stays. The farmers are doing it tough and our patronage might help them just a little.
All campgrounds along The Gibb have flushing toilets and hot showers, Ellenbrae Station even has a bathtub! Little luxuries like this are appreciated after a long day driving or walking the gorges.
This is not all the camping options on The Gibb River Road, rather just the ones we stayed at.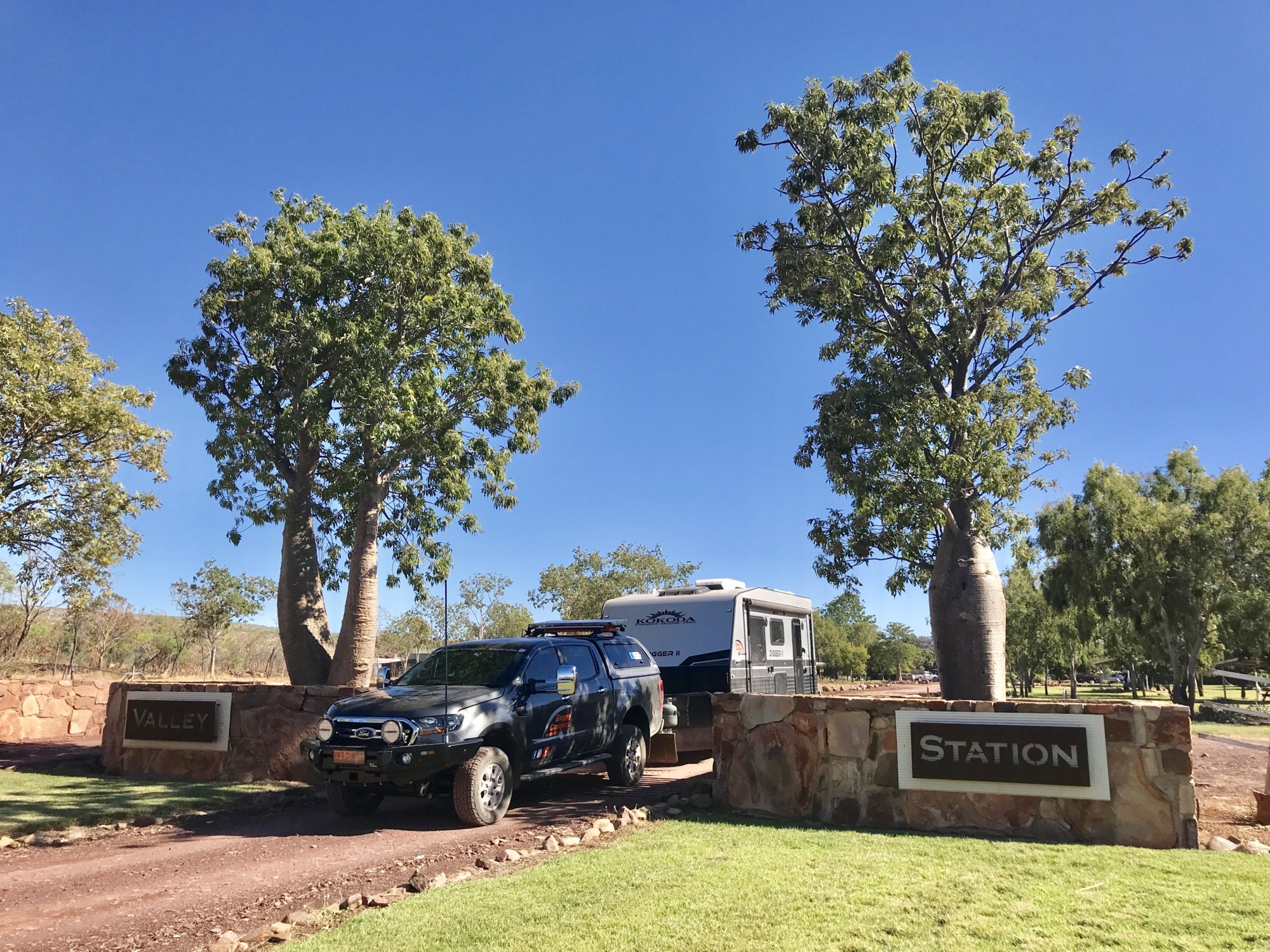 Home Valley Station
We left from Kununurra and first stop was Home Valley Station.
Home Valley Station is a real oasis on The Gibb. Drive through an impressive entry with beautiful boab trees in raised garden beds with green grassy campgrounds. First impressions of this place were great.
Then we saw the pool! A resort pool was a relaxing way to cool down from The Kimberley heat. The amenities are large individual bathrooms.
Home Valley Station also has a bar and restaurant.
There is a choice of camping near the facilities on the green grass or bush camping a few kilometres down the road on the Pentecost River. The river camping has spectacular views and sunset over the ranges would be amazing. Both options are the same price.
Unpowered camping for 2 people was $42 per night.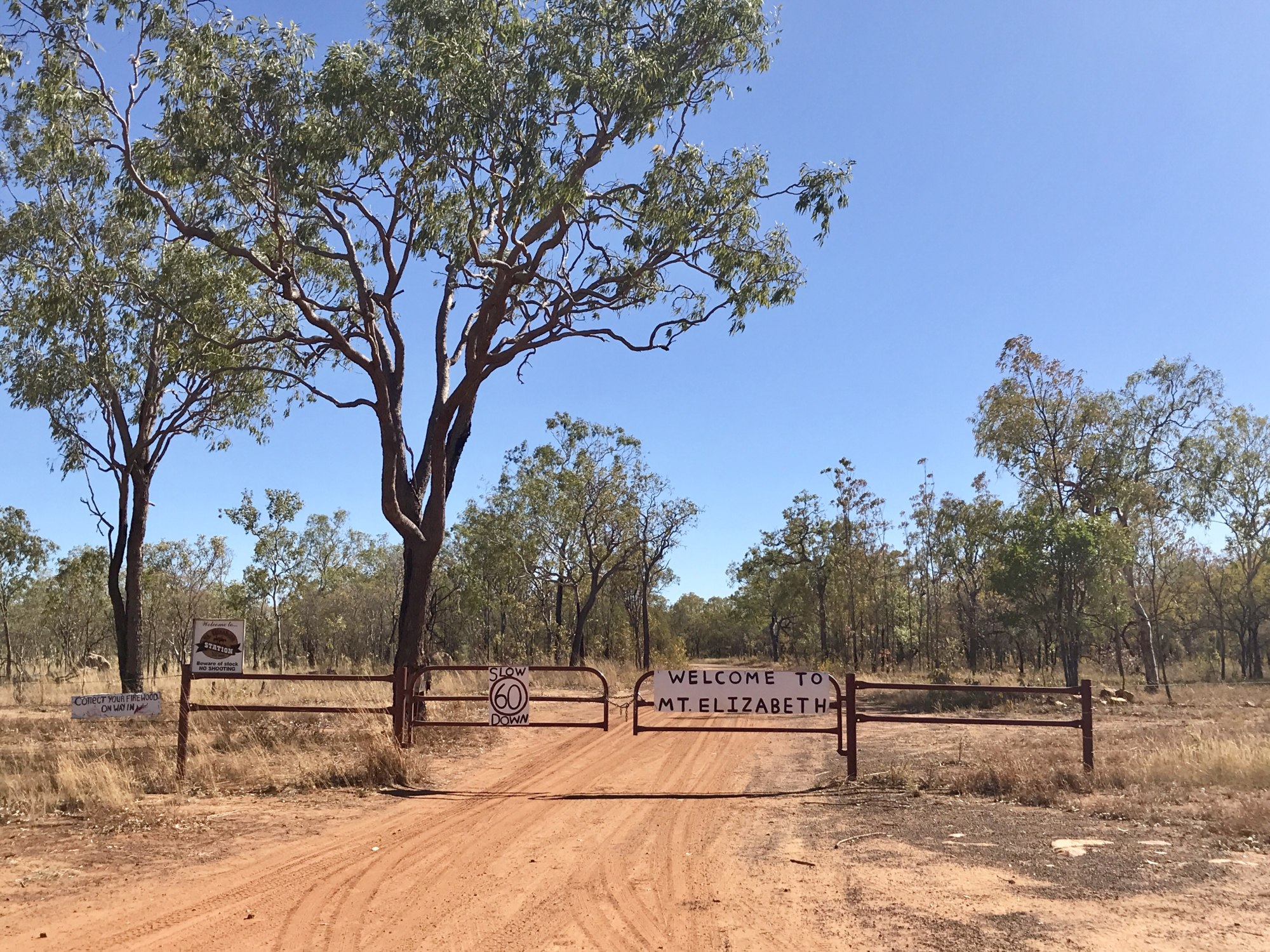 Mount Elizabeth Station
Ellenbrae to Mt. Elizabeth Station
Mt. Elizabeth station is a 30km detour off The Gibb. We had heard from other travellers about the gorge and rock art on the station so made the detour to see it.
We were running low on fuel and had used our jerry cans, but calculations meant we would make it to Mt. Elizabeth and Mt. Barnett Roadhouse to refuel in the morning.
When we arrived at Mt. Elizabeth we were a little disappointed to find that although the gorge was only 10km away, it was a 4WD road needing 1.5 hours each way. Unfortunately our fuel situation meant we couldn't risk doing the drive.
Our initial disappointment didn't last long. We took an interesting 4km walk through the property following pink ribbons to lead the way. The bush campground has brand new ammenities with spacious hot showers, a laundry and a new undercover camp kitchen. There are fire pits in the campground but we chose to sit around the communal campfire chatting with guests in the accomodation section. We watched the sun go down and spotted shooting stars after dark.
Mt. Elizabeth Station unpowered camping for 2 people is $44 per night.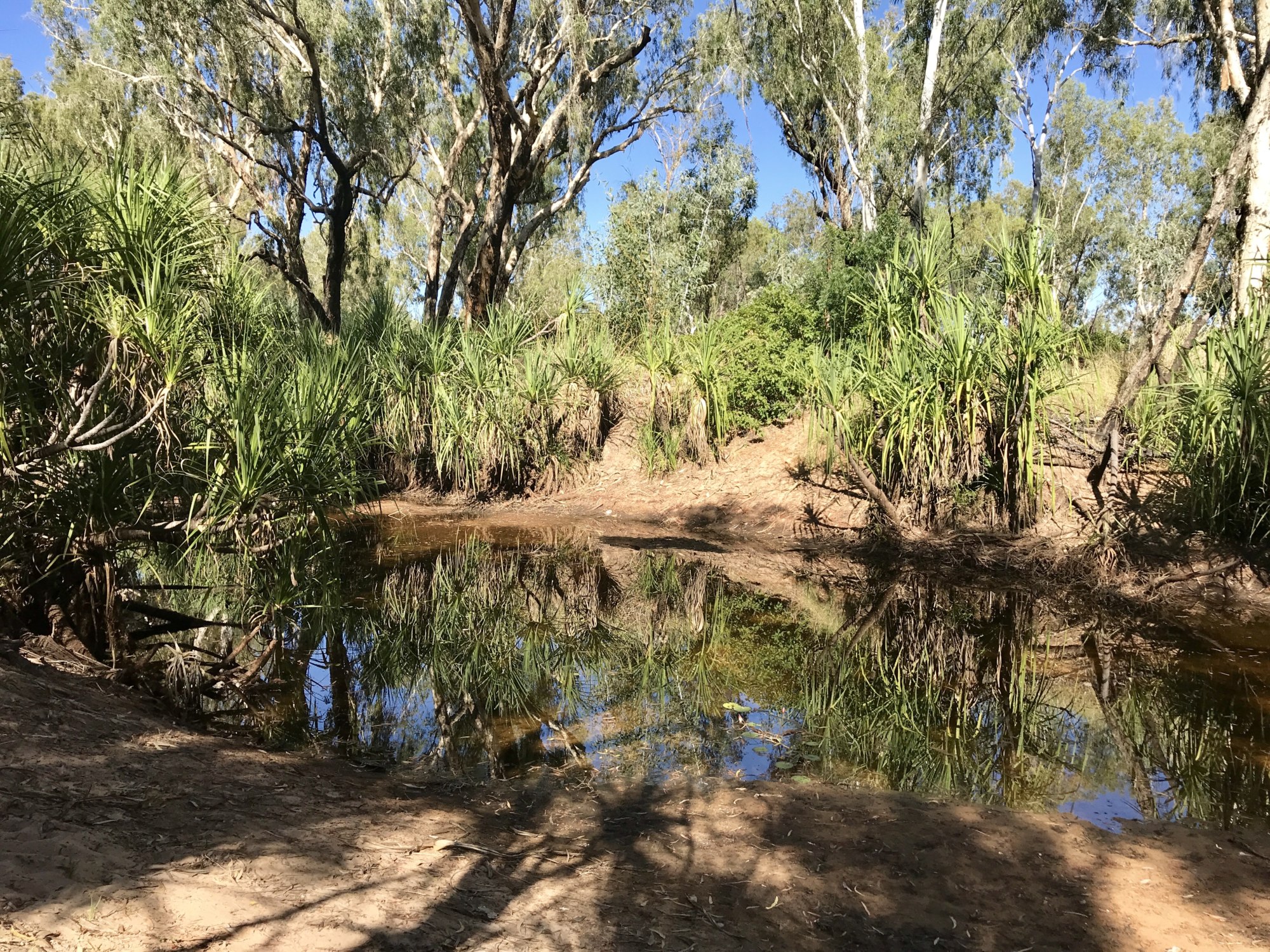 Ellenbrae Station
Home Valley Station to Ellenbrae Station
Ellenbrae station make the best home made scones on The Gibb. The homestead is open from 8am and even if you don't stay there, most people travelling the Gibb stop to try them out. The Homestead offers cool drinks, toasted sandwiches and their famous scones. There are shady areas to sit amongst the manicured gardens or take a seat on the verandah overlooking the grounds.
We camped in the Ringers camp on the station. This is a bush camp but has a communal camp kitchen and flushing toilets. Ellenbrae even have a bathtub! Very rare to find a bath in an outback campground and it is very popular for ladies and kids after a long dusty day in The Kimberley. The staff light the fire for the donkey system showers and bath every afternoon at 3.30pm, it is a talking point amongst fellow travellers.
There are also two swimming holes on the property nearby.
Ellenbrae unpowered camping for 2 people is $35 per night.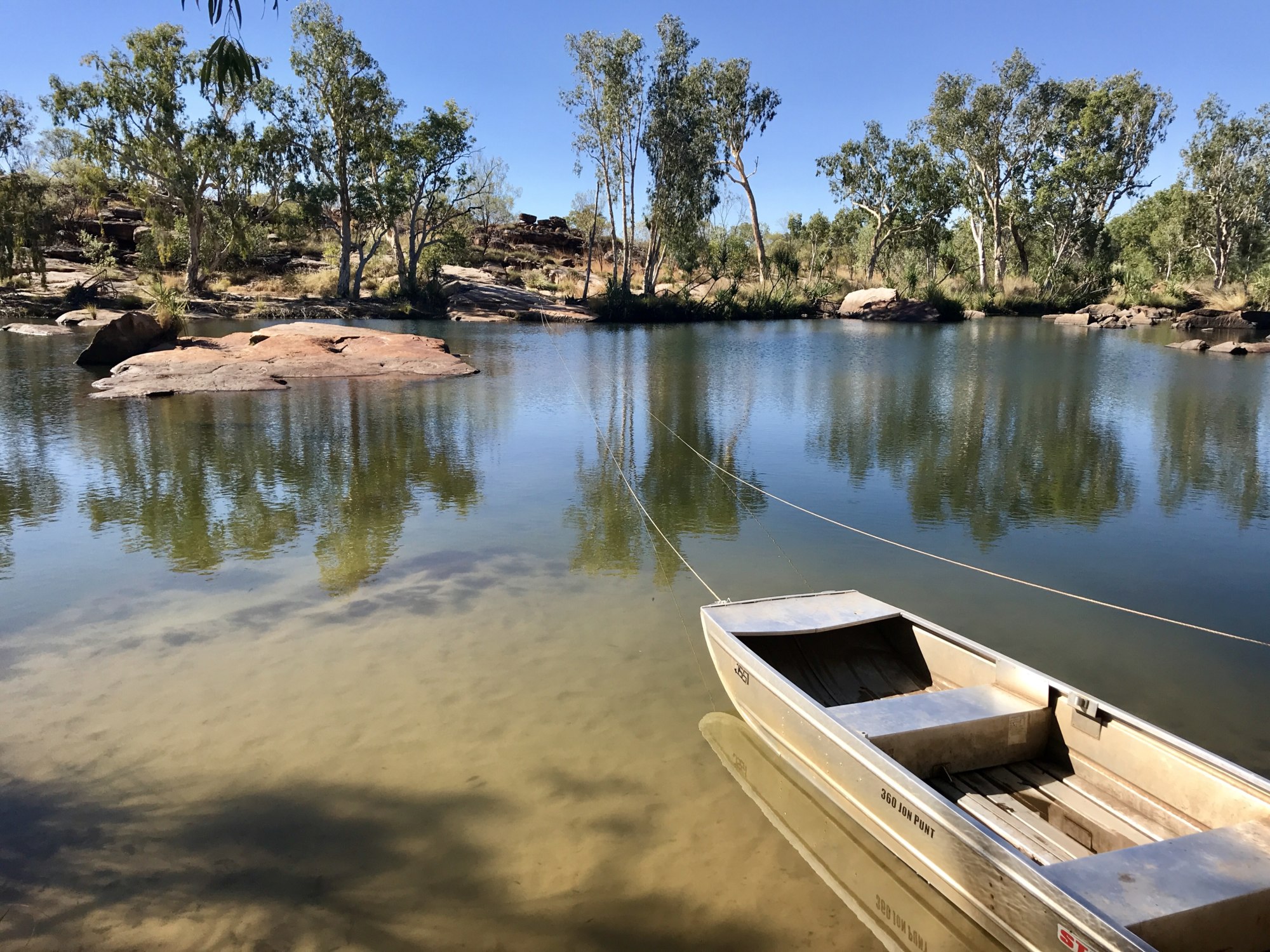 Manning Gorge Campground
Mt. Elizabeth Station to Manning Gorge
Manning Gorge Campground is located 7km from Mt. Barnett Roadhouse. Campground fees and Gorge Access permit are purchased from the roadhouse.
The campground is a bush camp with toilet, shower and laundry facilities. The highlight of this campground is the swimming. A gorgeous swimming hole with sandy beach is located just a few metres from camp. The gorge walk also starts from the swimming hole with a boat pulley system to transport walkers from one side of the swimming hole to the other. Allow 1.5 hours each way for the gorge walk, and it is advisable to do the walk in the morning. We left before 6am and were thankful that we did. It was an enjoyable walk at that time of day, although quite tricky at times with lots of rock climbing and manoeuvring your feet over the tall rocks. There is not much shade, and it gets very hot. Swimming is also possible at the gorge if you are happy to swim with the fresh water crocs.
Gorge access fee is $8 per person in addition to camping fees.
Unpowered camping fees for 2 people at Manning Gorge are $29.00.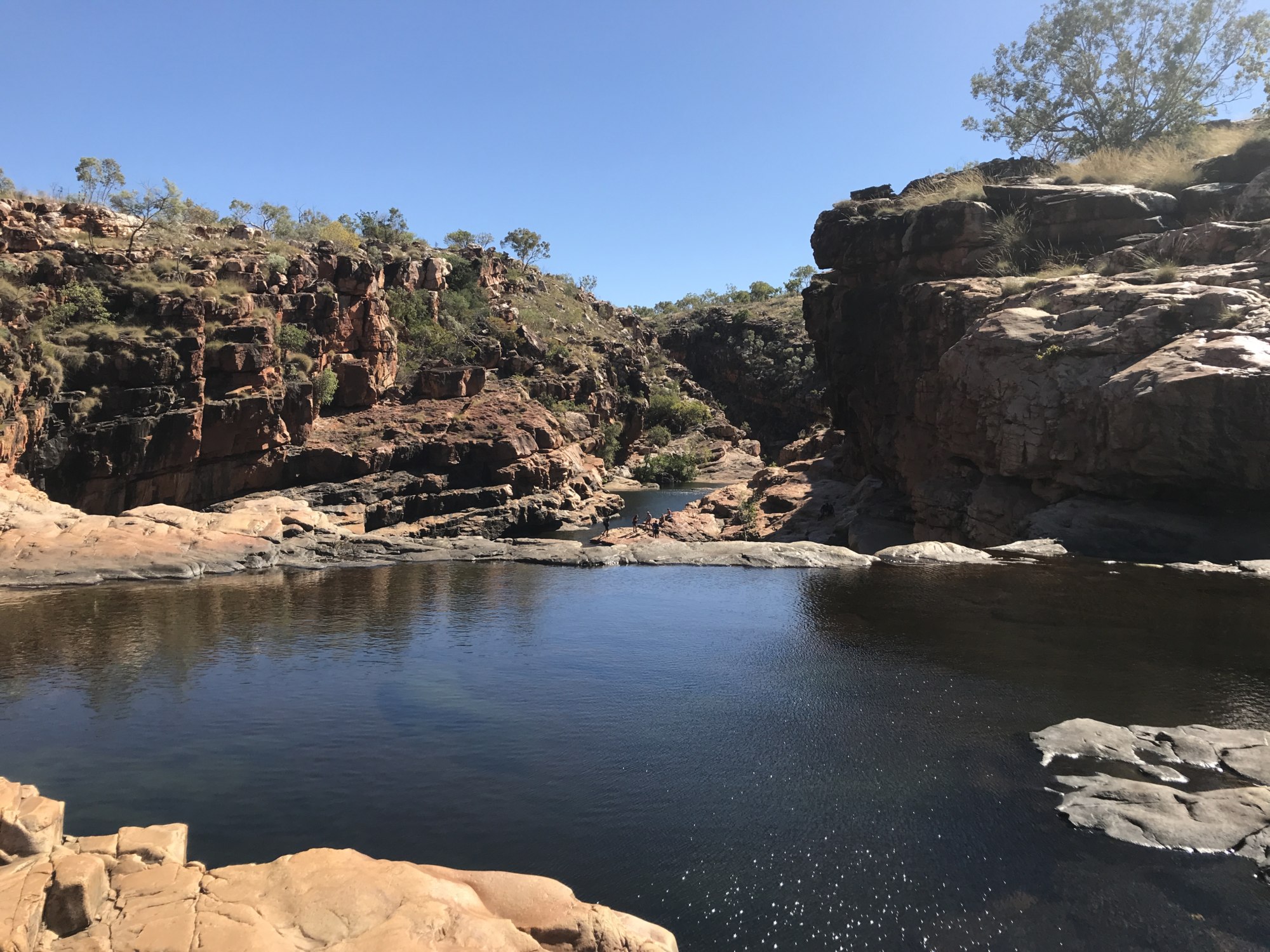 Silent Grove Campground
Manning Gorge to Silent Grove Campground.
Silent Grove campground is a National Park Campground and the base camp for Bell Gorge and falls. The 20km drive from The Gibb to the Silent Grove Campground was quite rocky. The campground is 10km before the Gorge walk and has flush toilets and hot showers. The showers are just a trickle, but they are hot. The campground was quite busy when we were there, so although bush camping, your neighbours were very close.
This was a perfect base to see Bell Gorge and Bell Falls which are amazing, and an easy half hour walk from the car park, 10km drive from the campground.
A National Park fee of $13 (or National Park pass) is needed in addition to camping fee.
Unpowered camping for 2 adults at Silent Grove Campground is $26 per night.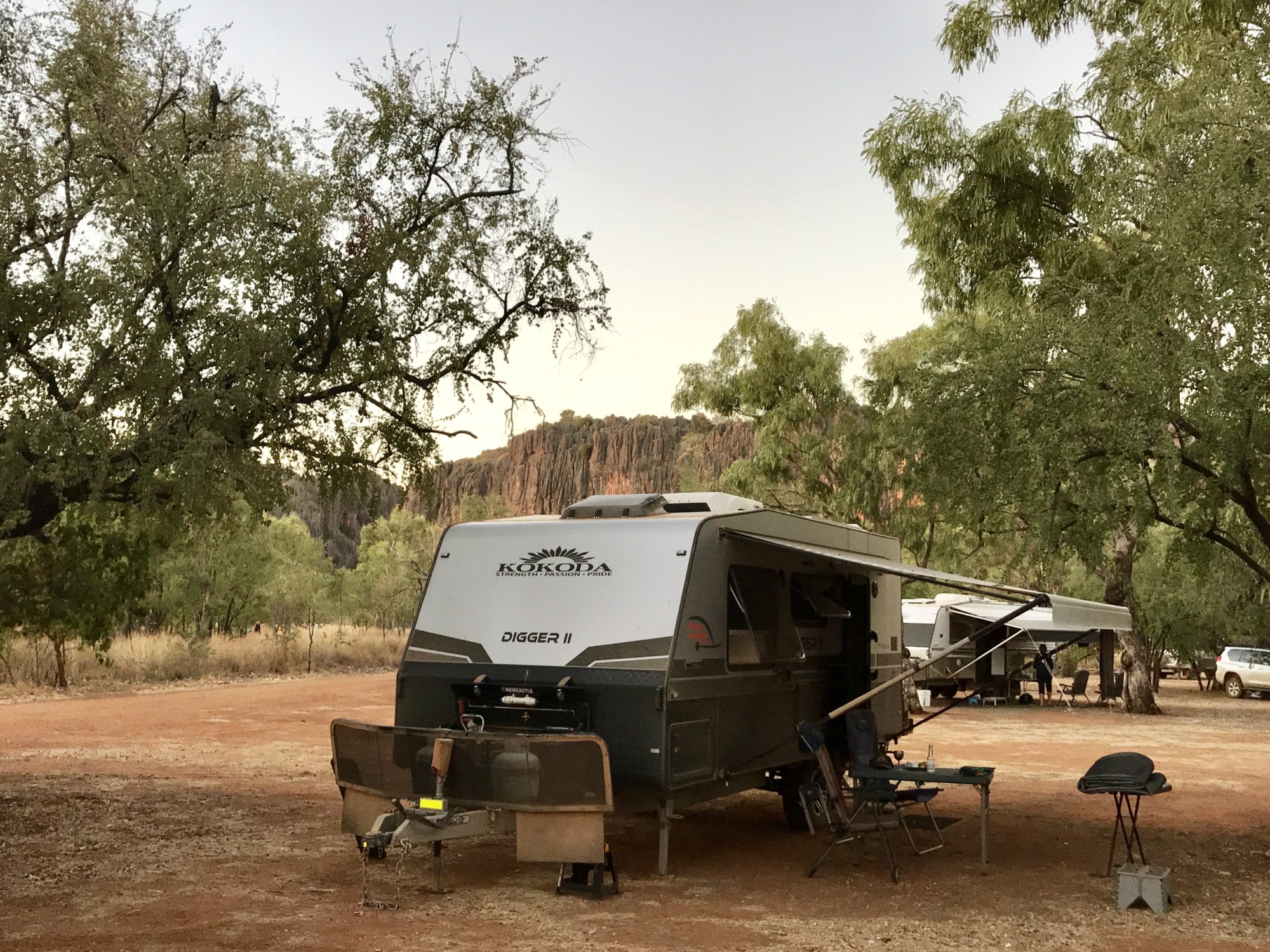 Windjana Gorge Campground
Mt Hart Station to Windjana Gorge Campground.
Windjana Gorge Campground is a National Park Campground and used as a base for Tunnel Creek and Windjana Gorge. The road to camp is 20km off The Gibb River Road and a similar standard to The Gibb. The campground sits below the towering cliffs of the gorge and is very scenic.
The amenities are exactly the same set up as Silent Grove Campground as they are both National Park. There are flush toilets and hot showers. Unfortunately the showers are a just a trickle, also exactly like Silent Grove. There are plenty of water taps around camp although we didn't trust them to be used as drinking water.
A National Park fee of $13 (or National Park pass) is needed in addition to camping fee.
Unpowered camping at Windjana Gorge campground for 2 adults is $26 per night.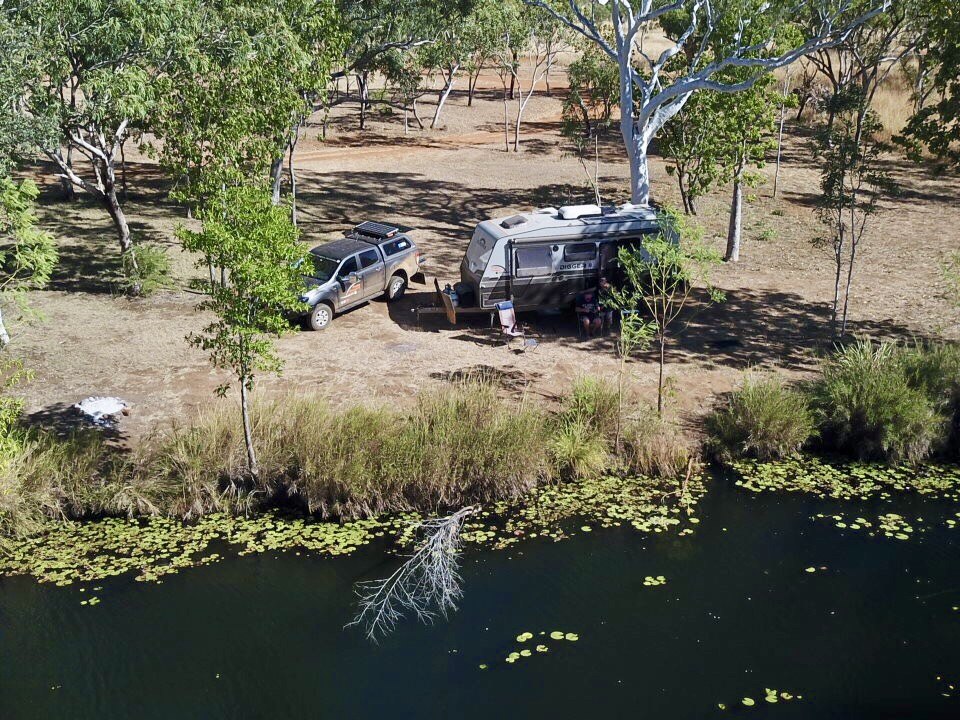 Mount Hart Station
Silent Grove to Mt. Hart Station
Mt Hart Station is a 50km detour off The Gibb. The drive on Mt Hart Road was a pleasure. It had some dips and river crossings to be taken carefully, but otherwise, the road was a breeze compared to The Gibb. It was smooth with a grader on the road often. Mt Hart campground has green grass, something we have not seen for a while. Camping is available close to flushing toilets and hot showers or set up a little bit further from the amenities to be camped on the river and watch birds dart around as the light fades.
The Station has a restaurant and bar, with 3 course dinners or pizzas most nights, otherwise, just visit for an afternoon drink to chat with other travellers.
There are a few 4WD roads leading to water crossings and gorge walks, or just visit "sunset hill" for an awesome view at sundown.
Unpowered camping at Mt Hart Station for 2 adults is $36 per night.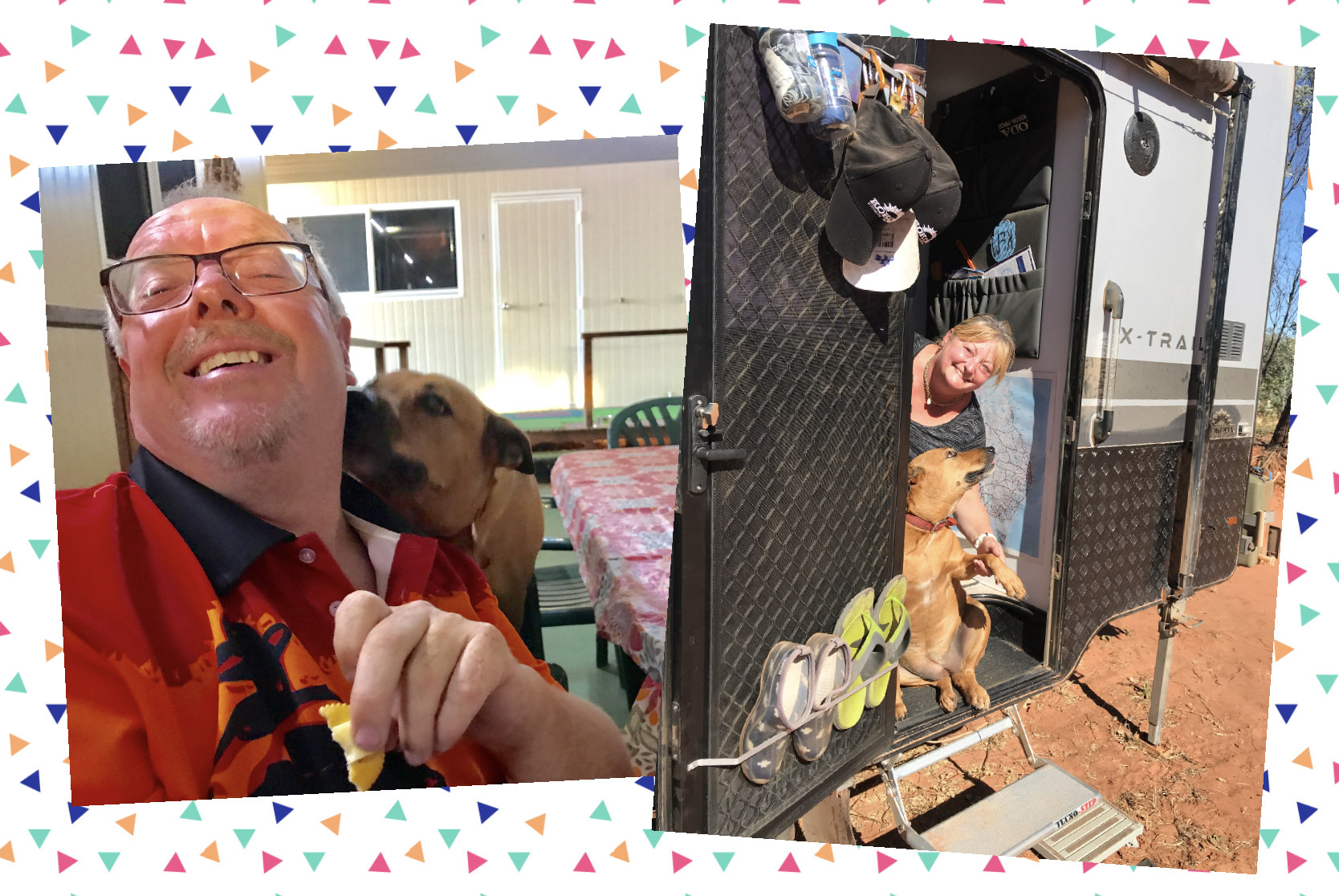 Savannah Retreat - "Mike and Ath"
Windjana Gorge to Derby
For our final leg of The Gibb we stayed out of town on private property just off The Gibb River Road. Savanah Retreat (otherwise known as "Mike and Ath") is a great base about 25km from Derby. Unpowered camping in Mikes back yard with the friendliest dog alive. Sasha is on the lookout for new arrivals and smothers you with kisses and slaps you with her tail. She even joins the group Happy Hour with her own seat at the table. Mike kindly provides cheese, dip & biscuits every afternoon for his new traveling friends.
His property is twenty minutes from Derby, so a good base rather than staying in town.
He also offers caravan storage for just $5 per night if you want to leave your van and take the tent to Windjana Gorge and Tunnel Creek.
Unpowered camping at Savanah Retreat for 2 adults is $20 per night.
We have also made a blog on our experience with the road conditions and fuel availability on The Gibb River Road. Click the link below to read more.