We drove The Gibb River road in May 2019, from Kununurra in the East to Derby in the West. May is early in the season and usually still quite wet. They have had their driest wet season in many years, so even this early in the season lots of the creek crossings are dry.
Don't let this put you off though, there are still plenty of beautiful swimming holes and waterfalls along The Gibb.
When attempting a road like this, you need to be well prepared for punctures or break downs. It's all part of the adventure but please don't attempt this trip without thorough preparation to your vehicle and camper or caravan. Our vehicle is brand new although we did upgrade the tyres from standard with this trip in mind. Before leaving we still tightened all wheel nuts.
Check caravan wheel bearings before you leave.
Secure insulated PVC water pipes.
Re tightened hatch and door screws.
Cover lower vent holes to prevent dust ingress.
Tightly secure roof racks and recheck daily along the way.
Anderson plugs need to be checked daily, they get full of dust and debris. Always cover them when driving unhitched, they will still need a regular blow out or clean with a brush.
Most importantly, reduce tyre pressures!
This is a juggling act to find the "sweet spot" Initially we reduced the van from 50psi to 25, and the car from 40psi to 25 & 28 (front & rear) Our first night at camp we heard stories of the significant increase in tyre damage this season due to incredible sharp shale on the Eastern side of The Gibb. Concerned about sidewall damage we increased the car slightly and the van to 30psi.
We spoke to many travellers along the way with differing ideas on tyre pressure. We found these numbers worked for us. It was a comfortable ride, and the interior of the van withstood the corrugations. We had no issues with car or caravan along the way.
See the pic below describing how we found the road conditions in different sections. The bitumen starts around 40km west of the Windjana Gorge turnoff.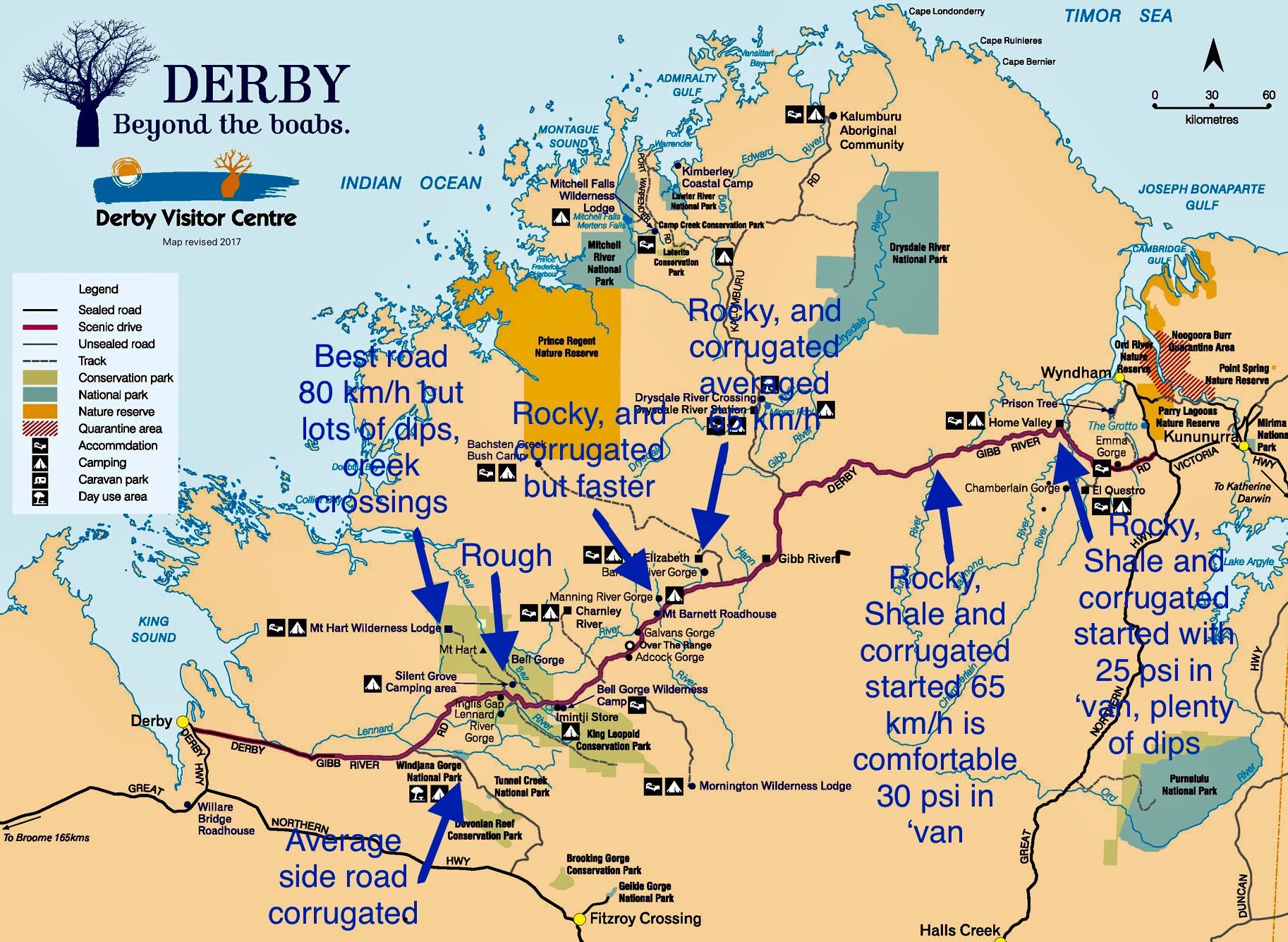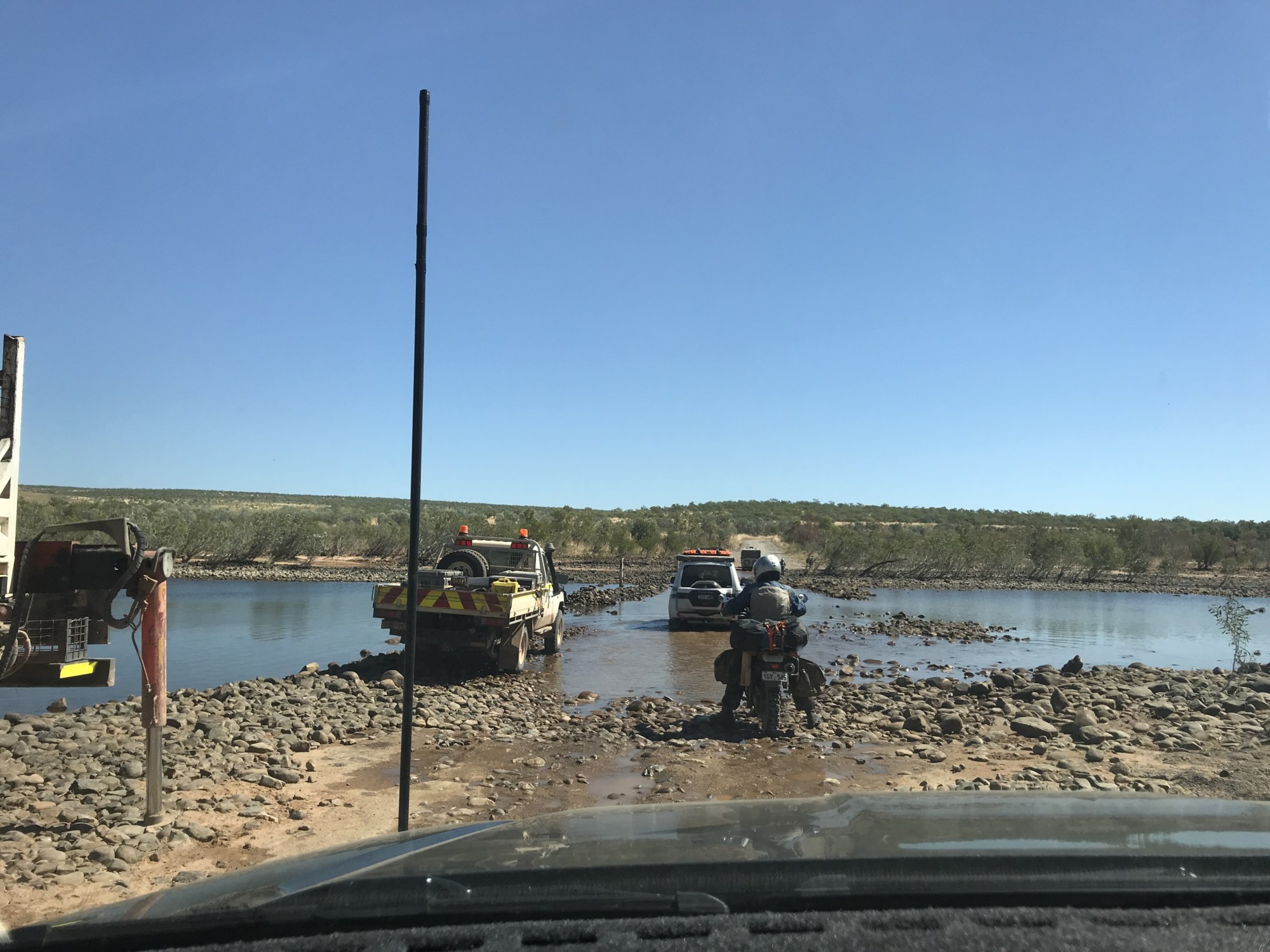 The Pentecost River crossing was very low.
Our Pentecost River crossing was a little disappointing. The water level was low after a very dry wet season and road work vehicles on the side of the road obstructed the typical river crossing photo.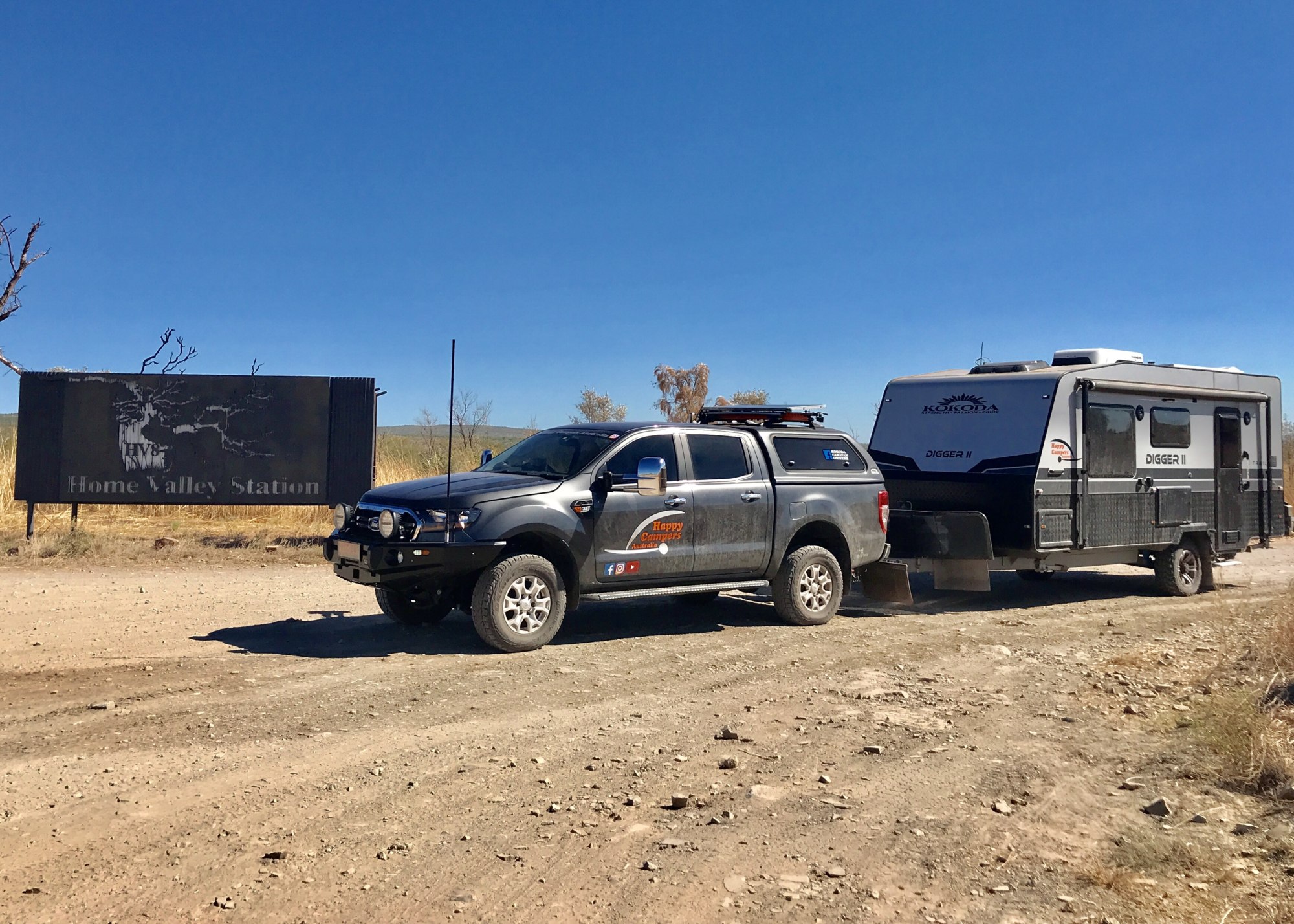 Sharp shale rocks to dodge on The Eastern side.
We didn't photograph the worst section as it took concentration to decide where to put the wheels along the way. The road was shale with large sharp rocks on the Eastern side. This photograph shows some typical rocks, definitely not the sharp shale.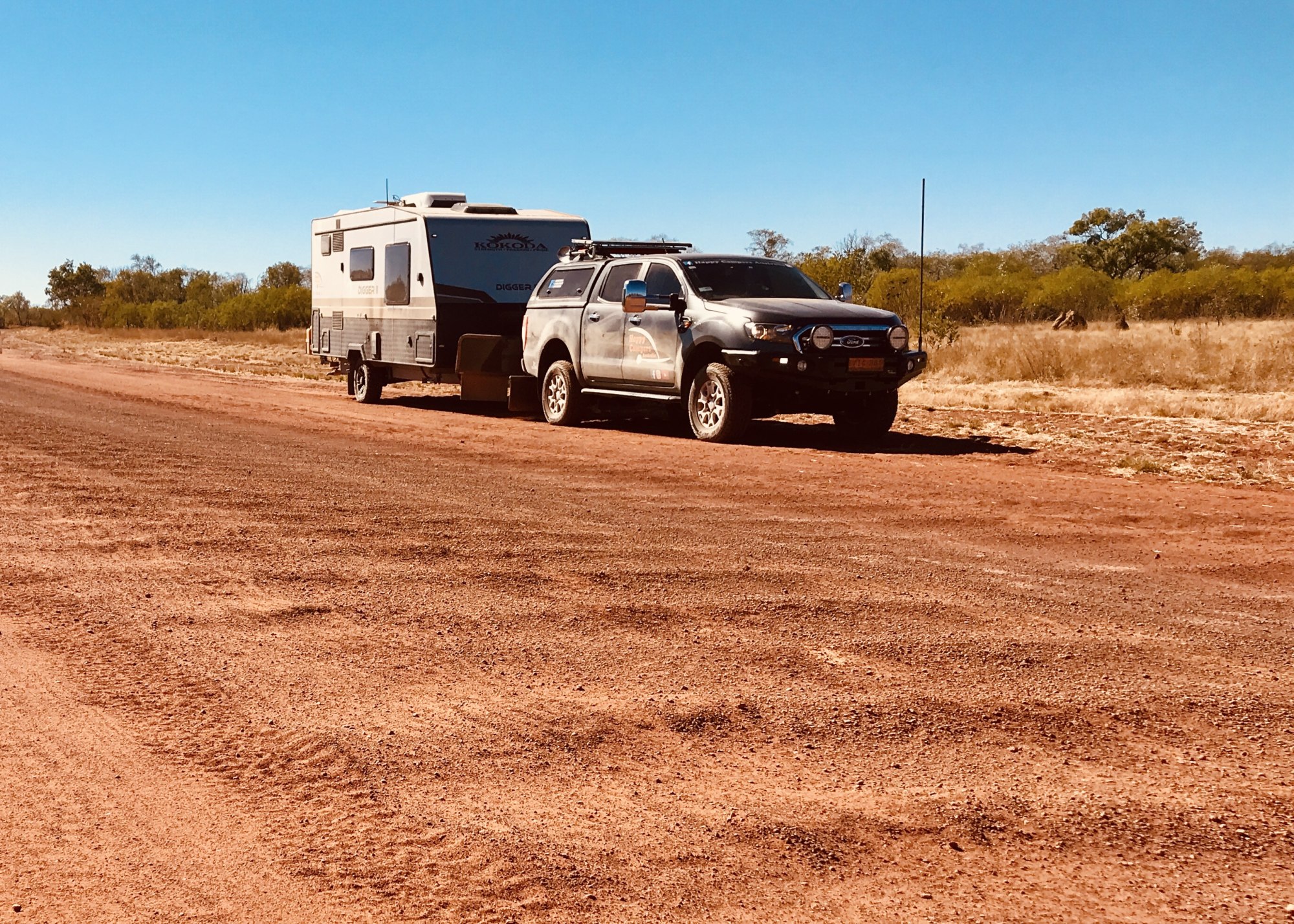 Corrugations are pretty standard along the road.
Corrugations and dust are part of the journey and were no worse than we expected. We actually thought the whole Gibb River Road was not too bad, although we spoke to one traveller who had driven the road four times and this was his worst experience. We enjoyed the challenge.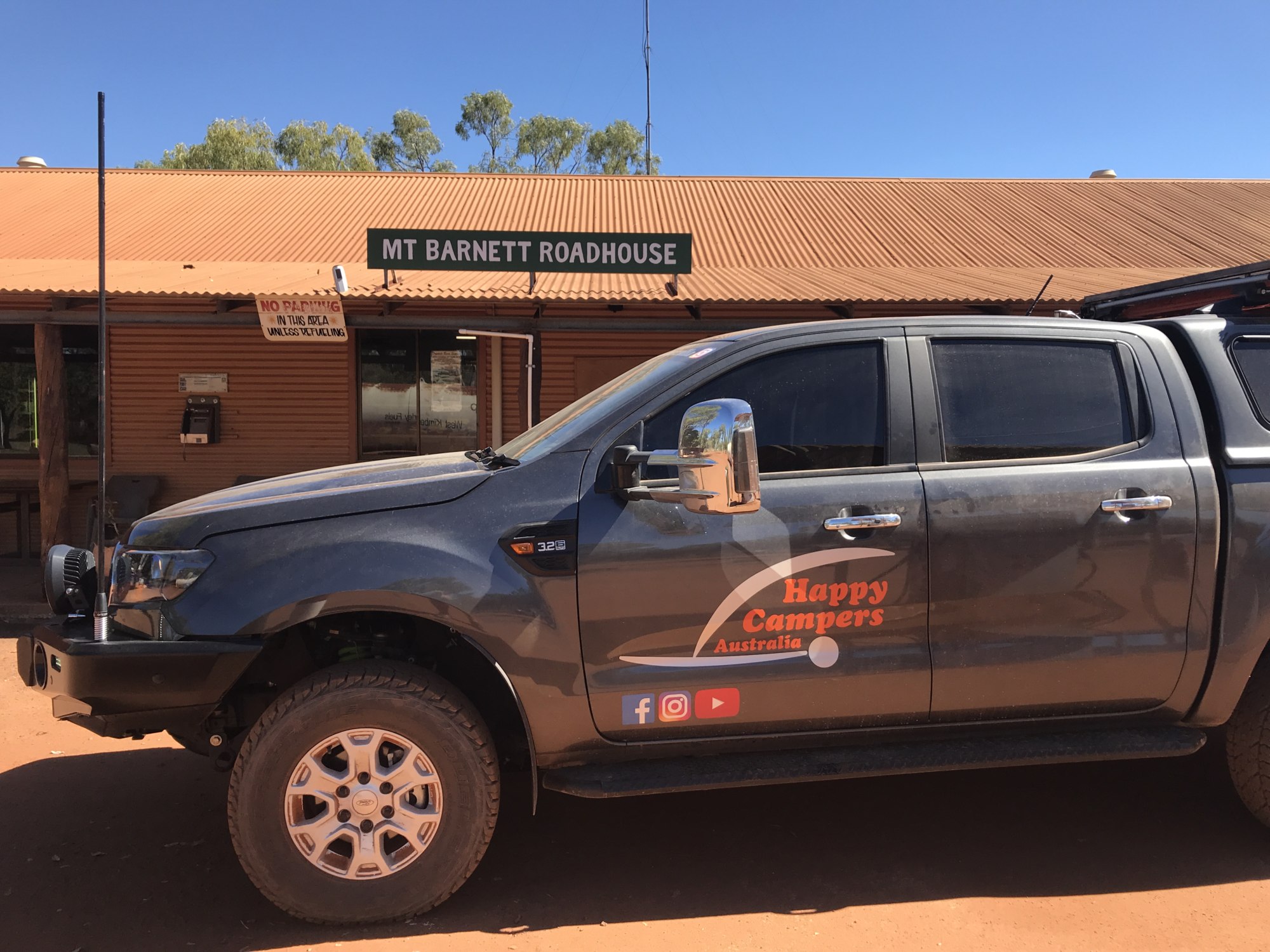 Mount Barnett Roadhouse
Mount Barnett Roadhouse is almost half way along the Gibb. Diesel was available for $2.10 per litre. The roadhouse had a good selection of groceries for sale. They cook hot food to order and also have sandwiches and wraps. Mount Barnett Roadhouse also make bookings for Horizontal Falls tours in Derby. This was perfect as there has been no phone service to book ourselves. We found out the tour was booked out for several more days, so we booked the tour knowing we could relax and spend a few more days on The Gibb, rather than arrive to Derby and then wait for the next available tour date.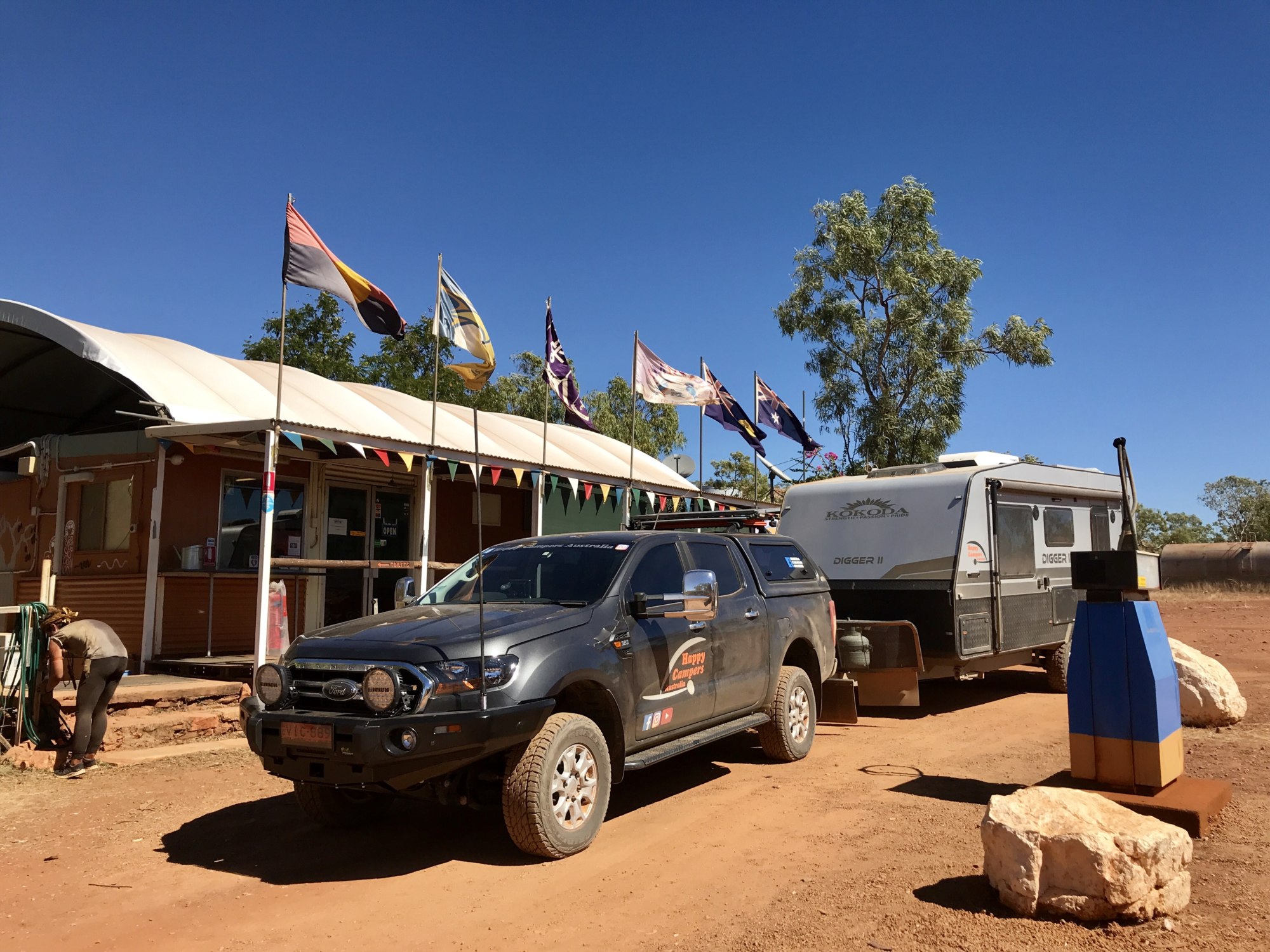 Imintji Roadhouse
Imintji Roadhouse is about half way along The Gibb. Fuel is available for $2.05 per litre.
The roadhouse also has a fantastic range of fresh fruit & veg and grocery lines. They also have a selection of cakes and deserts baked daily. There is a shady area to sit and cool off with an ice block or enjoy a cup of coffee. Surprisingly, Imintji Roadhouse gets Optus reception. There is no Telstra anywhere along The Gibb.
Fuel is also available at Gibb River, east of Mount Barnett and Mount Hart also sells fuel for $2 per litre.
Tyre repairs and sales are available at Ellenbrae Station.
There is a Bridgestone dealer called "Over the Range" at the start of King Leopold Range.
Don't expect to pay city prices anywhere out here!
We spoke to a traveller who got a price for a new tyre and was horrified. He had another spare, so didn't bother replacing it. 50km down the road he had another incident and needed to use his last spare.
Sure enough, he turned back and paid that initial price that shocked him!
We have also made a blog on campgrounds that we stayed at along The Gibb River Road.
Click the link below to read more.