All our tools and accessories are listed here.
Ryobi 18 volt power tools, big fan of these:
Chainsaw
2 speed drill and bits (used mainly for BOS 470 jockey wheel)
Rattle gun (used mainly for drop down legs)
Lantern with USB port
Twin USB hub
3 x 2.5 ah batteries
12 volt charger
Torch
240 volt quick charger
12 volt Air Compressor with blower nozzle (SCA)
Tyre Pressure Gauge
Tyre Deflator (Opposite Lock)
Multi Grips, Side Cutters, Bull Nose Pliers
2 tyre levers
Multi Meter (Stanley)
Small Tarp
Hand Saw
Shifting Spanners 9 & 12 inch
Lump Hammer (SCA)
Riggers Gloves
Axe (not pictured)
Long 1/2 inch Breaker Bar (Snap-On)
Metric Spanner & Socket Set 1/4 and 3/8 dri (Stanley)
Three Red Bags contain:
Tyre Puncture Repair Kit, Tie Down Straps, Ratchet Straps
Box of Electrical bits:
Fuses, Test light, wire, connectors, Anderson and 12 pin connectors
Contents of tackle box listed below.
We have been caravanning for many years and have been adding and removing items from our tools the whole time. Glenn is a licenced mechanic and has worked in the motor industry all his working life. We are very lucky that he has picked up other skills along the way including auto electrical and he is constantly tinkering. He gets satisfaction from making gadgets and improvements.
So, when we decided to hit the road full time, we didn't need to change our tool box much at all. The only additional thing we added was a Kneeling pad from SCA for climbing under the car or van at camp.
All these tools are kept in the drawer system in the rear of the Everest. We chose the Ambiente Everest especially because its payload is greater than the other Everest models.
Tackle Box Contents:
Two Rattle gun sockets 19 & 21mm
Step Drill Bit
Three Torx bit sockets (for Everest)
Ratchet Screwdriver
Long Flat blade Screwdriver
Medium Phillips Screwdriver
Two Jewellers Screwdrivers
Tyre Gauge for Compressor
File rat tail
BOS Wobble Socket
Vice Grips
SOS Tape
Assorted bolts and nyloc nuts
Hose Clamps
Small springs
Wheel Nuts
Electrical Tape, wide & normal
Screws, self tapping and timber
Cotter (split) pins
O rings, water and gas
Spare trailer hitch pin
Matches
Truma gas bottle level check
Razor blades
Tie wire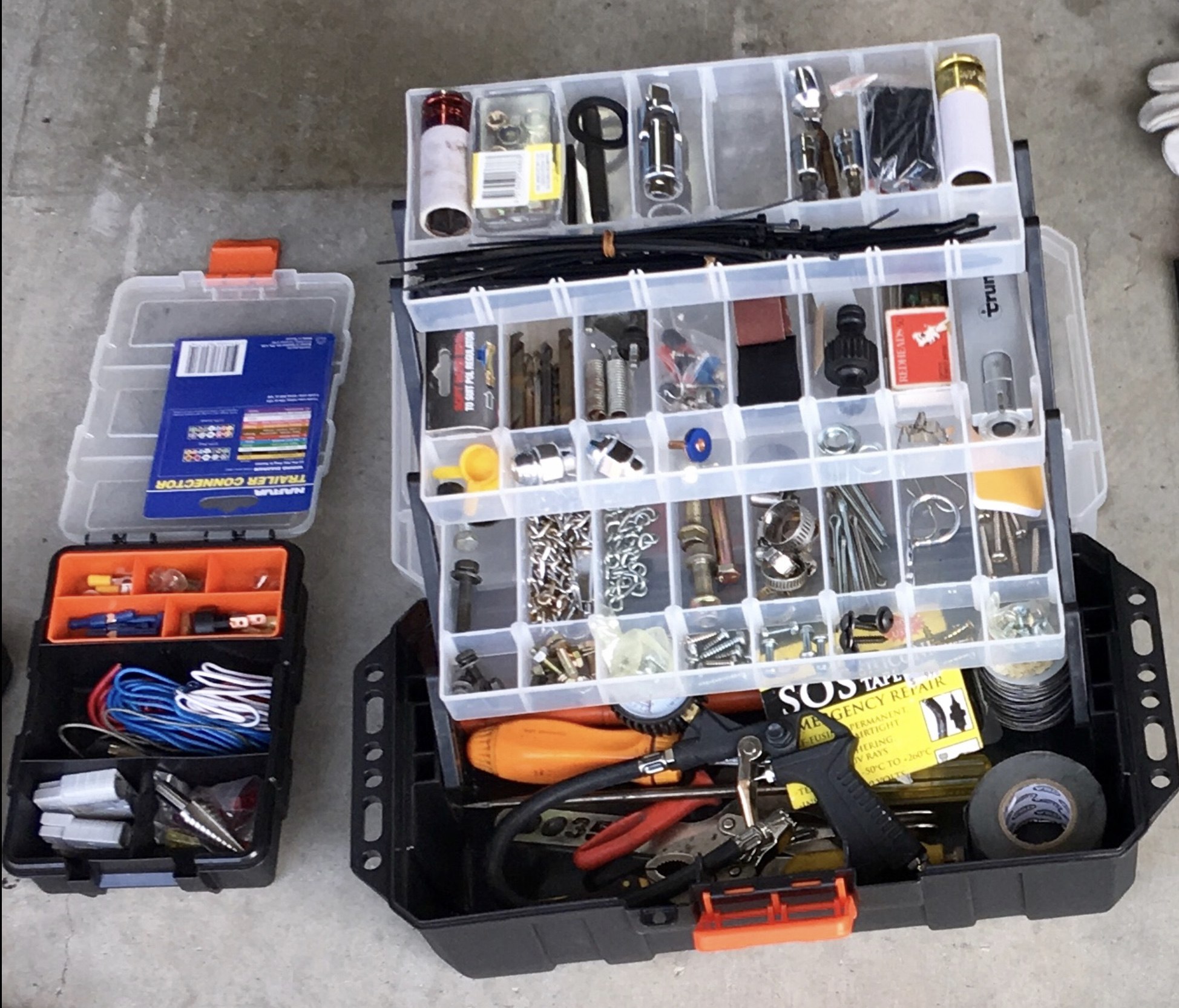 Deciding what tools are necessary to take on your big trip is difficult. Although we carry a lot of tools, most items have been used at least once. Considering we have only been full time travelling for three months there will be opportunities to use the few little bits we haven't needed yet.
We think we have the right mix and hope our list helps you with your planning.
EDIT:  …. We have been full time on the road for over 2 years now, and the tool box remains the same. Our vehicle is now a Ranger, and we have transferred all the same tools to the new vehicle.