We are very lucky to have had travelled extensively before resigning from our jobs to travel full time, so our initial lap of Aus was to be a bit different to most. We would concentrate on the areas we hadn't seen in recent years. We decided to do four loops – we called it a four leaf clover – that way we could call in home every few months for special family celebrations and Christmas. Our young adult boys are living at home so we always have somewhere to come back to.
We left Newcastle on October 8, 2018.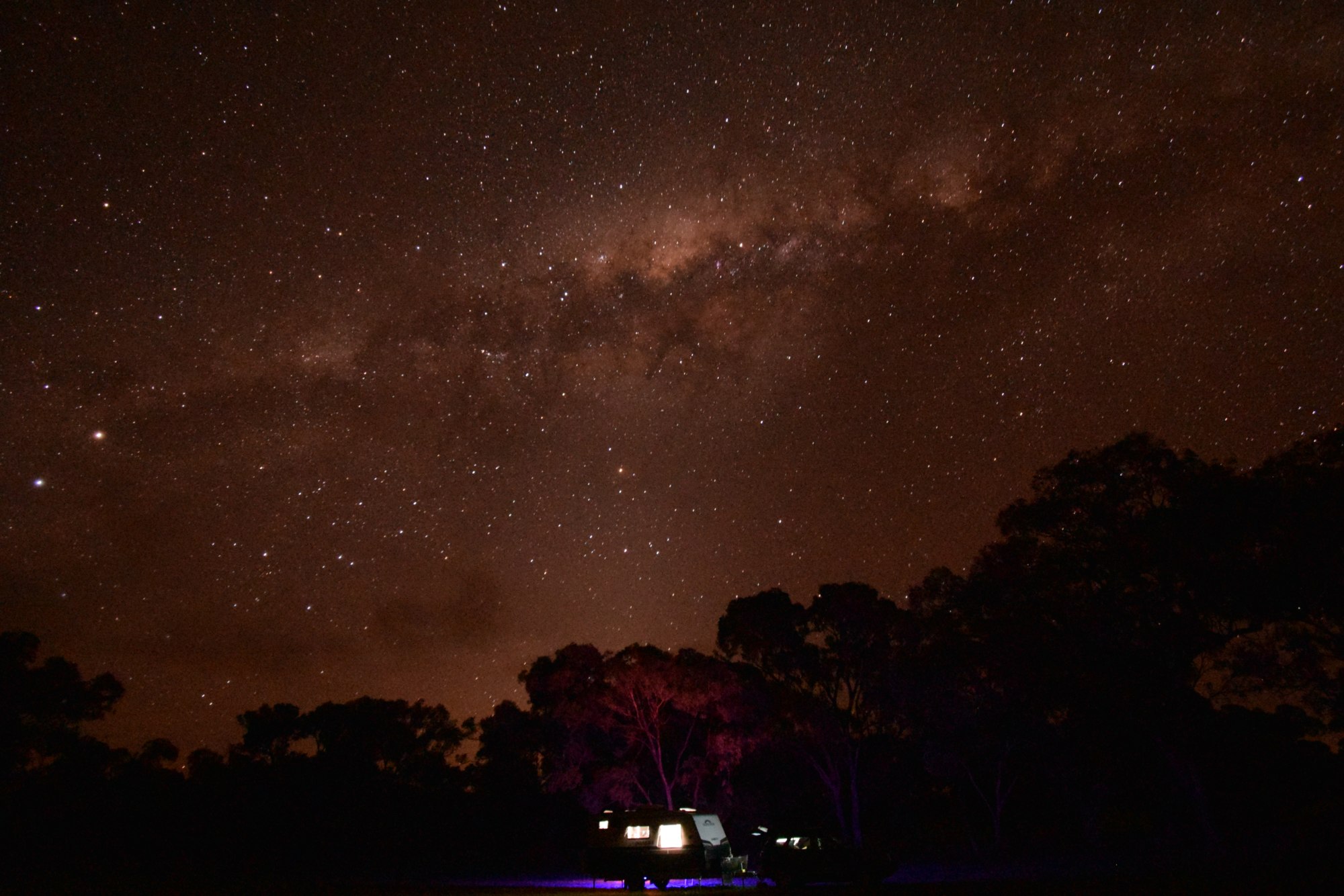 Our very first night free camping under the stars. What a great start to our adventure!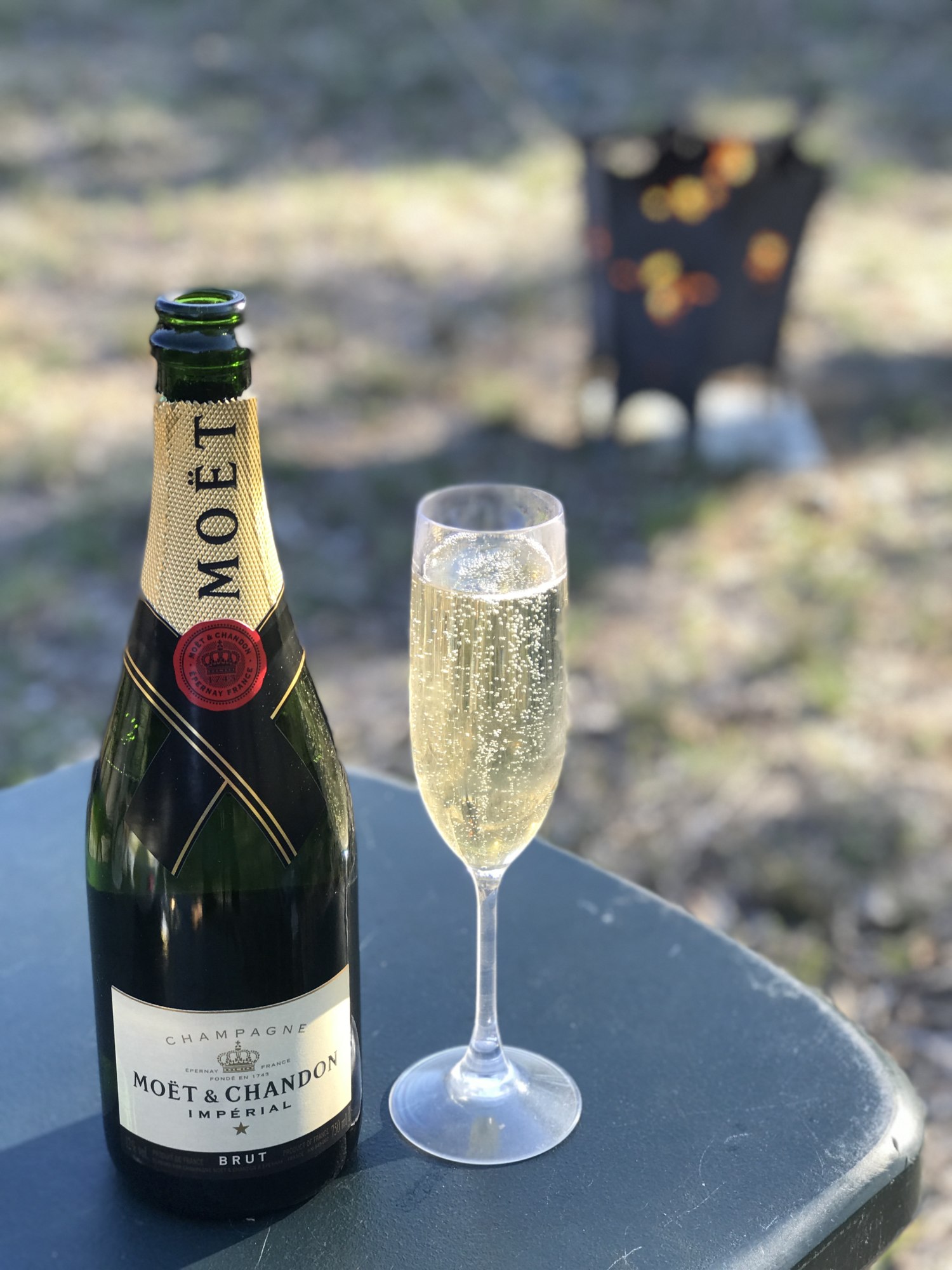 Our very first Happy Hour was celebrated with Moët by the fire. Perfect!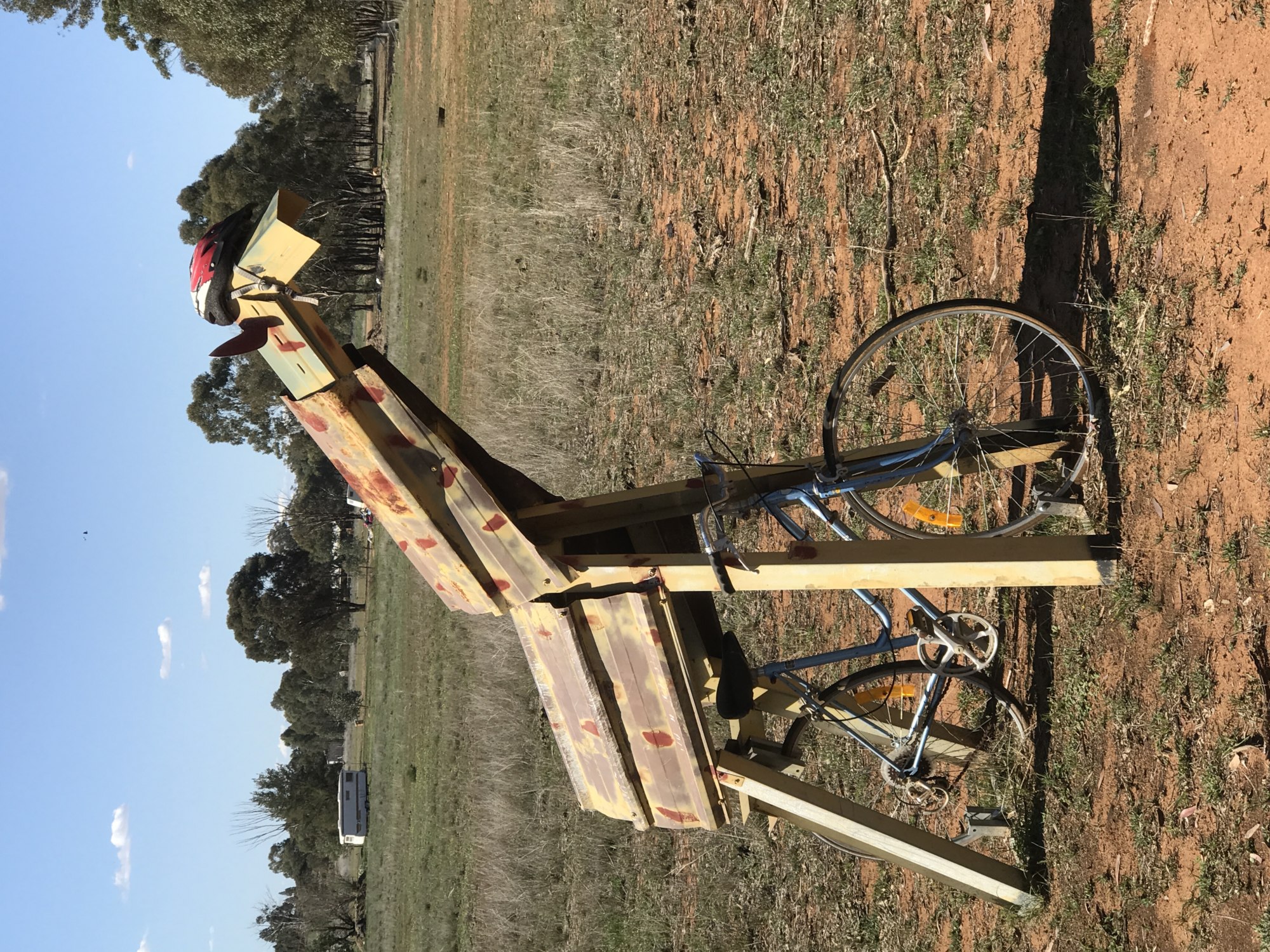 Our first day of travel took us past "Animals on Bikes" between Dubbo and Molong NSW.
We left Newcastle on October 8, 2018 aiming to be home to spend a few days with the family for Christmas. Given this was only about 10 weeks, we concentrated on the areas of Victoria and South Australia that we hadn't recently explored.
It didn't take us too long to settle into a different mindset. While working there is always timeframes, there is always a need to travel X kms to see the next "point of interest" if you want to see everything possible in the limited timeframe of annual leave. This was very different, and we quite liked it!
Previously the maximum time we had spent on the road together at one time was 6 weeks. We found 10 weeks until Christmas really easy, and the time since then has not given any personal challenges either. Obviously we are very comfortable living in such close proximity to each other. We understand each other and it just works. Navigation might cause some frustration, but never more than that. Lol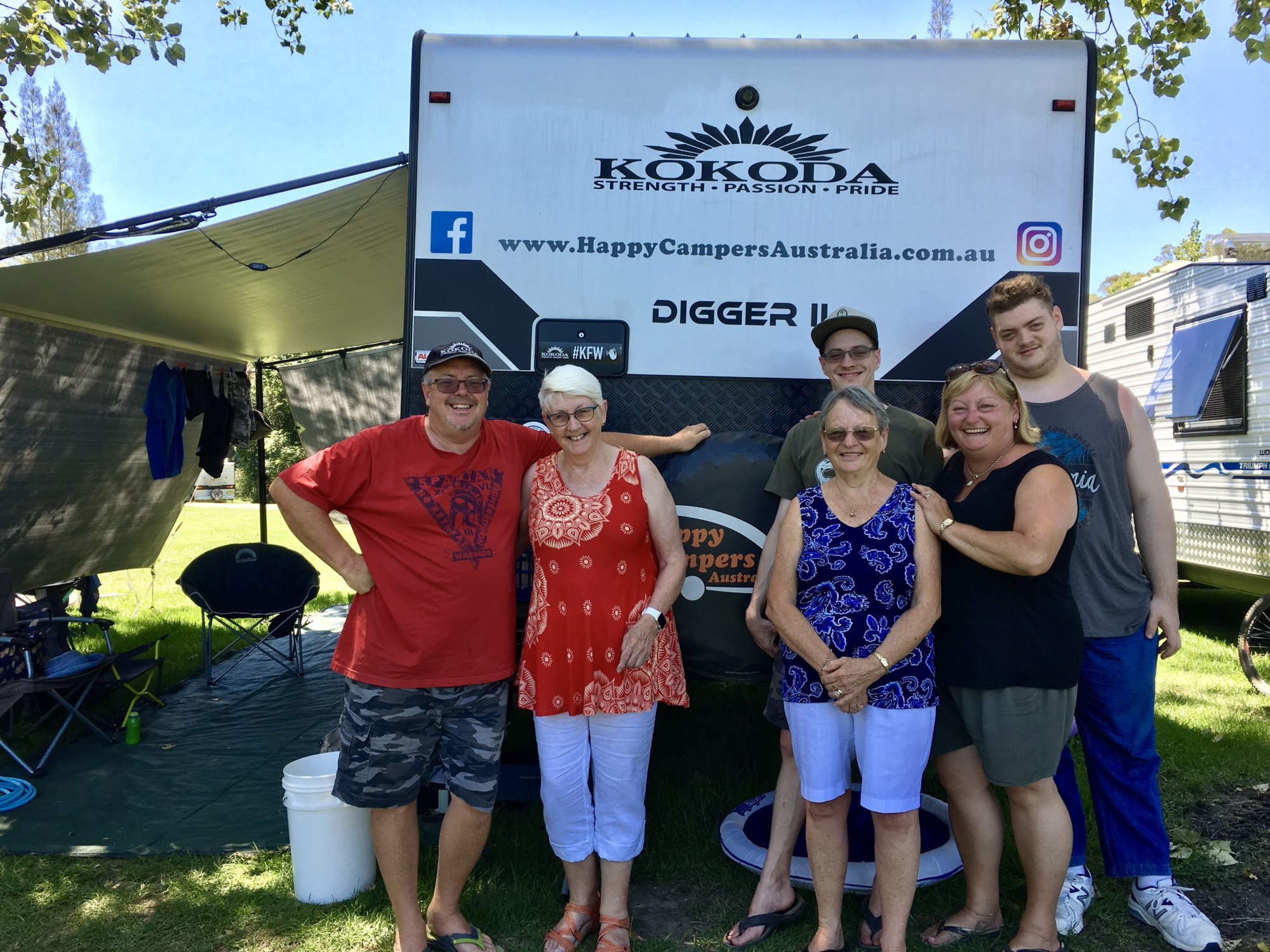 Every New Year we camp close to home with friends. This year we continued the tradition and where thrilled to have some day visitors. Our family!
Our short time at home for Christmas with the family was lovely. We also spent a week camping locally with friends as we have every New Year for many years. Our time with family and friends was enjoyable but we were not ready to stay put for long. Early in January we made our way south for our second loop. We caught the Spirit of Tasmania in mid January for 8 wonderful weeks enjoying so much of the beautiful Apple Isle.
Tasmania was everything we hoped for and more. We had spent three weeks there for our Honeymoon almost 30 years ago and always said we need to go back. Tasmania did not disappoint. Our return sail was pre booked, as recommended. Ideally, we would have liked an extra few weeks, but in our 8 weeks we saw most of what we wanted. We did not have a rest day at all, so an extra few weeks would have been more relaxing. But, in saying that, our 8 weeks was more than some people have.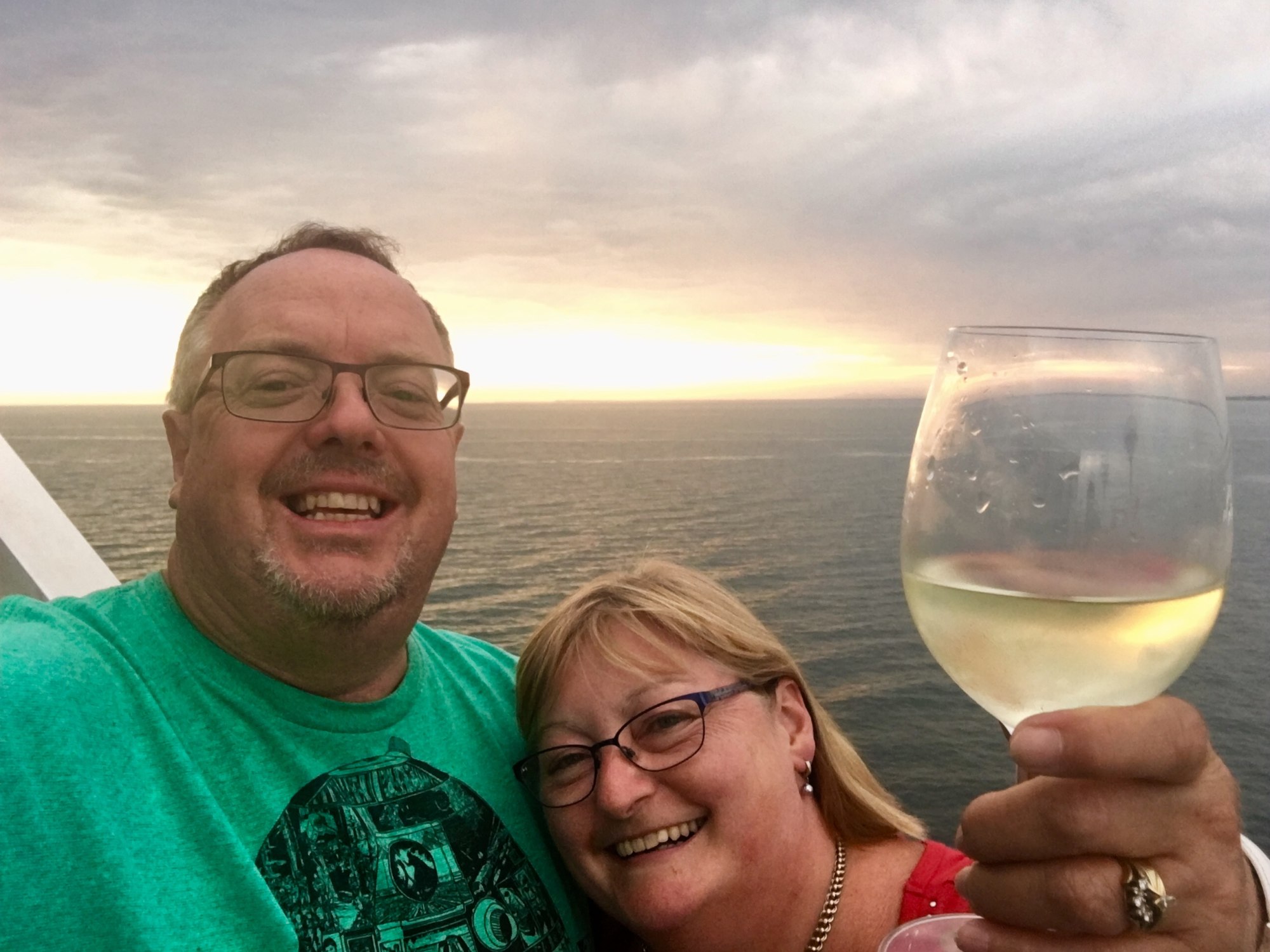 Our good luck changed from here.
On the very last day of our Tasmanian adventure we had a car accident. The accident claimed the vehicle as a "total write off' Our caravan was due to sail to the mainland just a few hours after the accident and we had no vehicle to get it on the ferry. This was a "logistical nightmare" that needed to be arranged immediately. Caravan spaces on The Spirit of Tasmania are limited and if we couldn't make the sail that night, it would be three months until the next available caravan space!!! Thanks to the staff of The Spirit of Tasmania for "pulling strings" to get us on the boat without a car. This is not a usual situation and we are grateful. We are also very grateful to our friends in Melbourne who met us at the terminal to tow our caravan off the ferry and set us up camping in their back yard while we shopped for a new tow vehicle.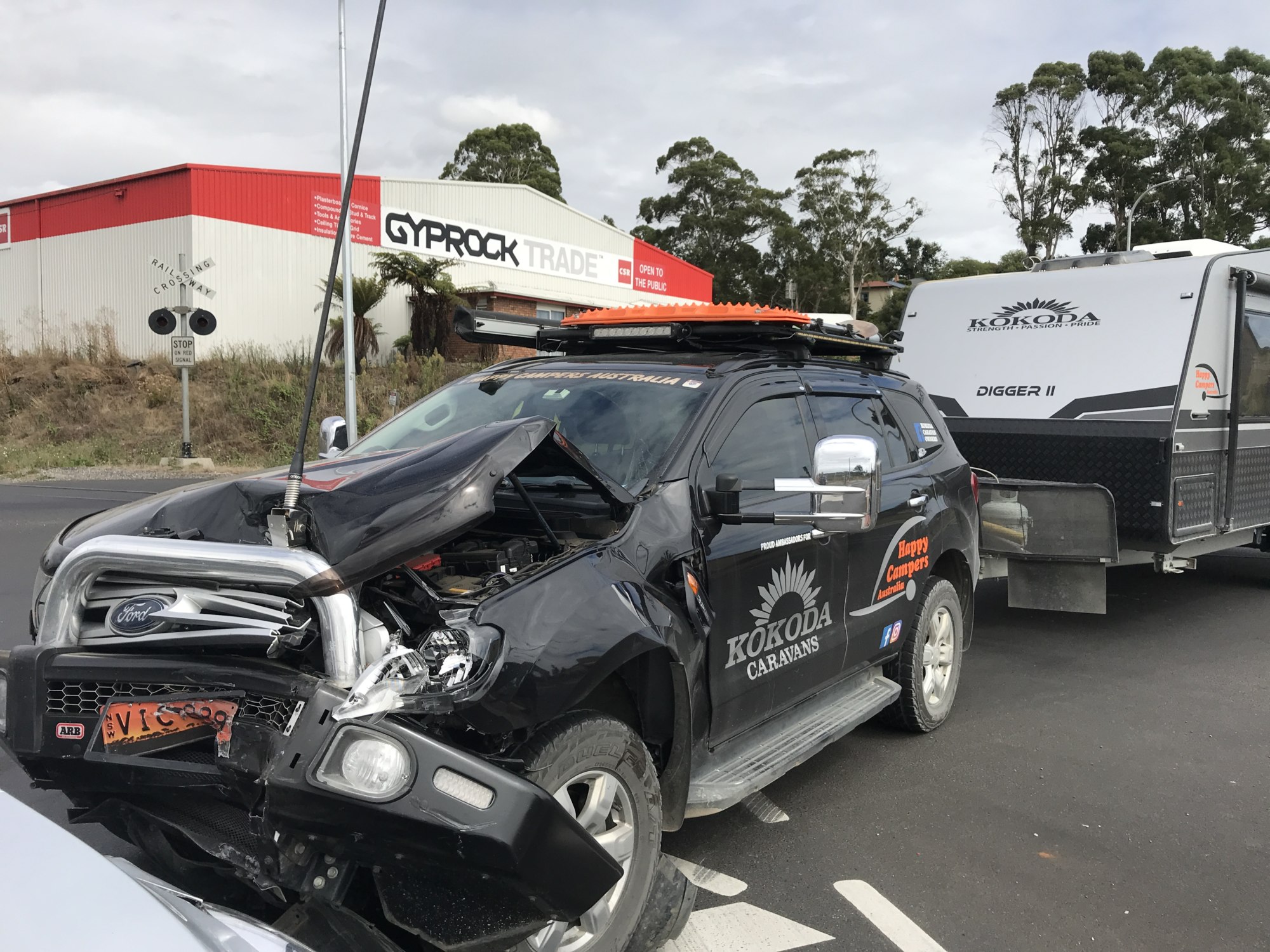 We were not at fault. A vehicle turned in front of us. We had nowhere to go.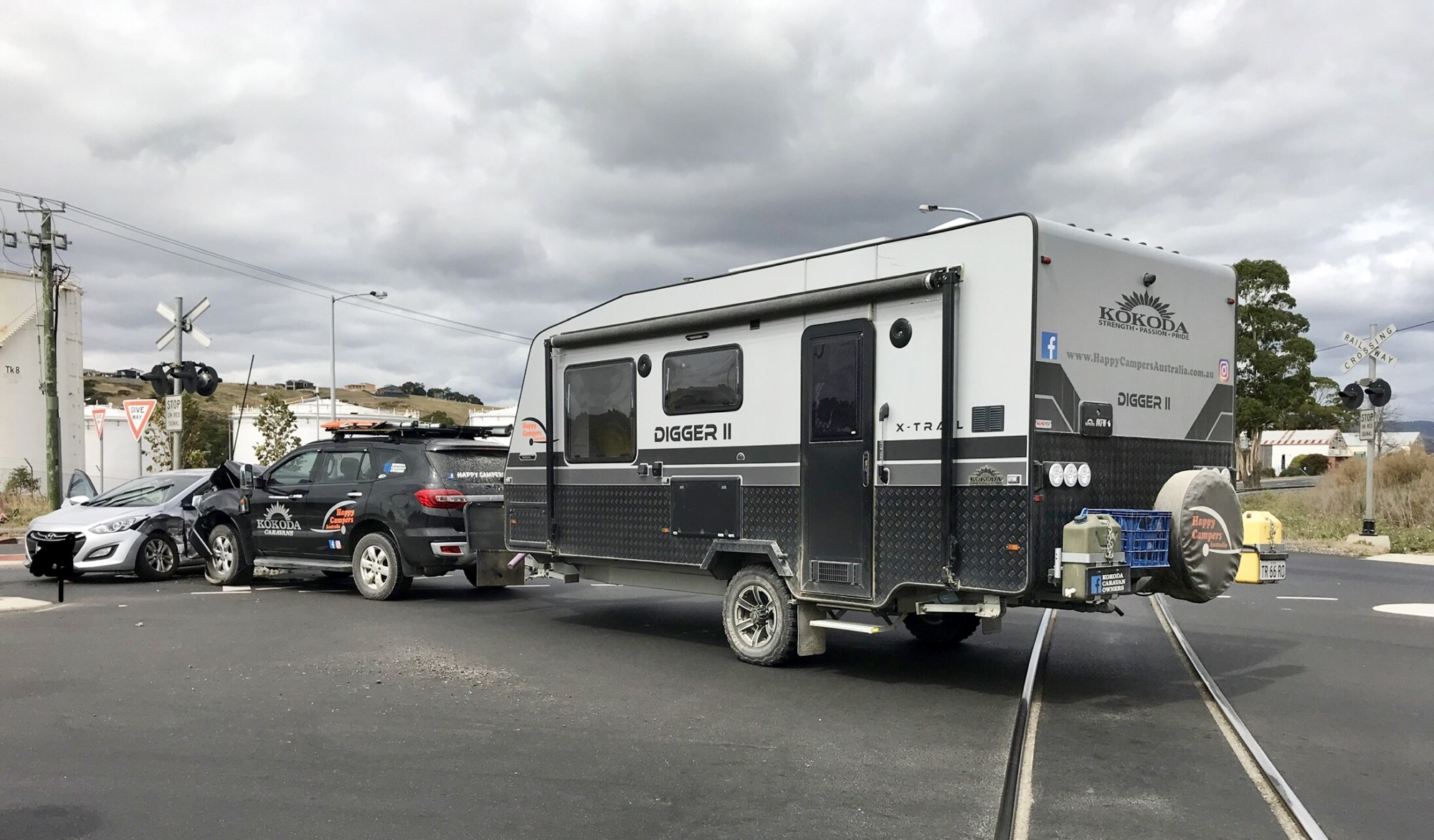 We were unable to move and the caravan was over the train line. Thankfully Tas Rail stopped the trains in time.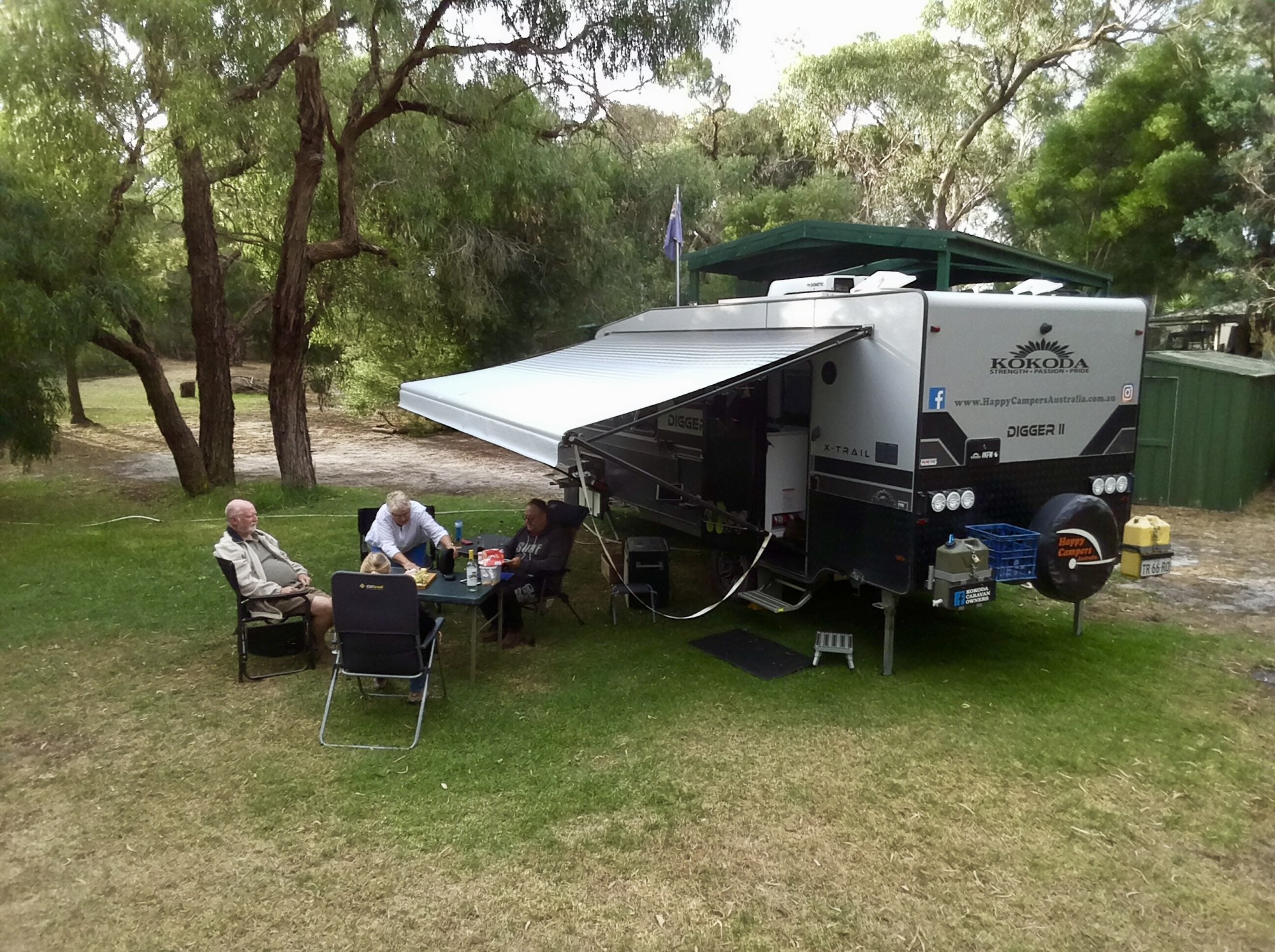 We camped in our friends back yard near Melbourne while we decided on a new tow vehicle.
With a new tow vehicle purchased and fitted out with some Ironman accessories we headed back up the Hume Highway to Newcastle. Our personal belongings were still in Tasmania in our old vehicle, we needed to wait for them to be shipped to us, then install them to the new vehicle. Personal belongings such as: 4WD accessories, drawer system, UHF, second battery, solar set up etc,etc. It will be quite a lot of work, and a huge inconvenience. The accident was not our fault, and as you know, with full time caravanning, it is not as simple as buying a new vehicle. There is an awful lot of set up involved with a 4WD caravanning vehicle. The accident would set us back in our travel plans by many weeks.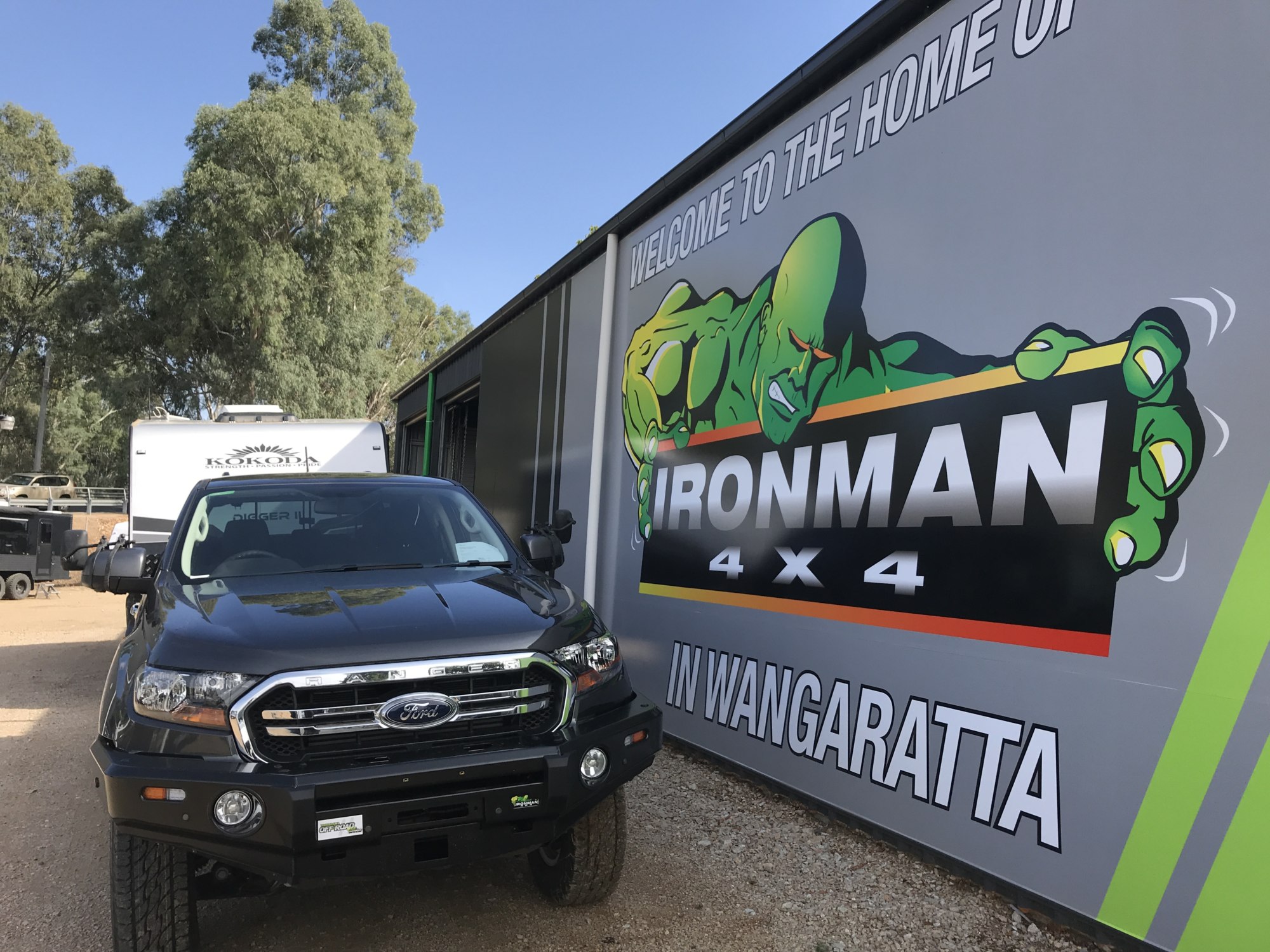 The guys at Wangaratta Off Road and Caravans were a great help to get us on the road as quickly as possible.
It may be a freak of nature, who knows, but just the day after arriving home from Tasmania I had to call an ambulance to Glenn. He was suffering severe abdominal pain. He was hospitalised for days and needed surgery.
Was this another setback? Or was this lucky?
Lucky we were home with a major hospital within minutes of our house, or unlucky that our travel plans were delayed even further?
I think we were lucky.
But on the other hand, we are not ready to stay put. He has to rest. Common sense tells us this is the right thing to do, but our heads are not in the same space.
Glenn is frustrated that he is not able to do what he wants to the new car. I feel useless as I have no idea how to wire the new car, I want him to take it easy and rest but I am not ready to "stay home"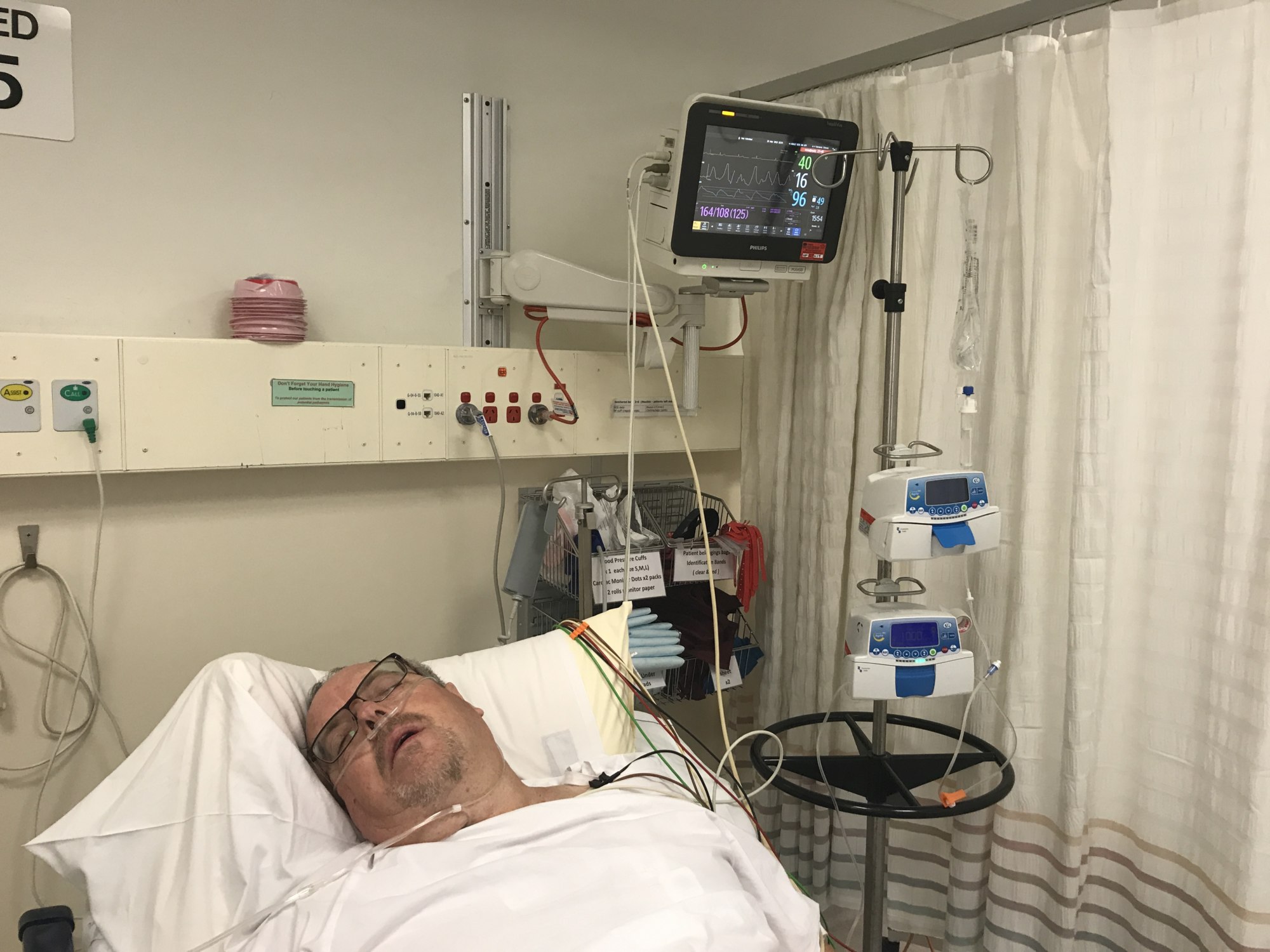 Our family think its an opportunity to stay put and relax for a while. They have trouble understanding that we are not ready for that. As nice as it is to visit family, the thought of a few weeks at home is absolutely horrible! For now, our home is our caravan, we are very comfortable there. Living in a house – even if its for a few weeks – means routine, housework, managing a family, cooking for what seems like an army, living in a huge space amongst possessions that are unnecessary. We are comfortable with our decision to keep our house. We are lucky our boys are happy to continue to live at home. That way we always have the option of coming home easily. But after 5 short months we were nowhere near ready to come home for an extended time.
One thing we have learnt in the last 6 months is that life can be minimal. We dont need possessions. Experiences are much more memorable than "stuff'
So, the last few weeks of our first six months have been challenging to say the least, but we are hopeful all the bad luck is behind us.
Overall, we have had a wonderful time. We were not expecting to be spending our 6 month anniversary in our house, but the positive is that we could have been stuck in a remote location somewhere.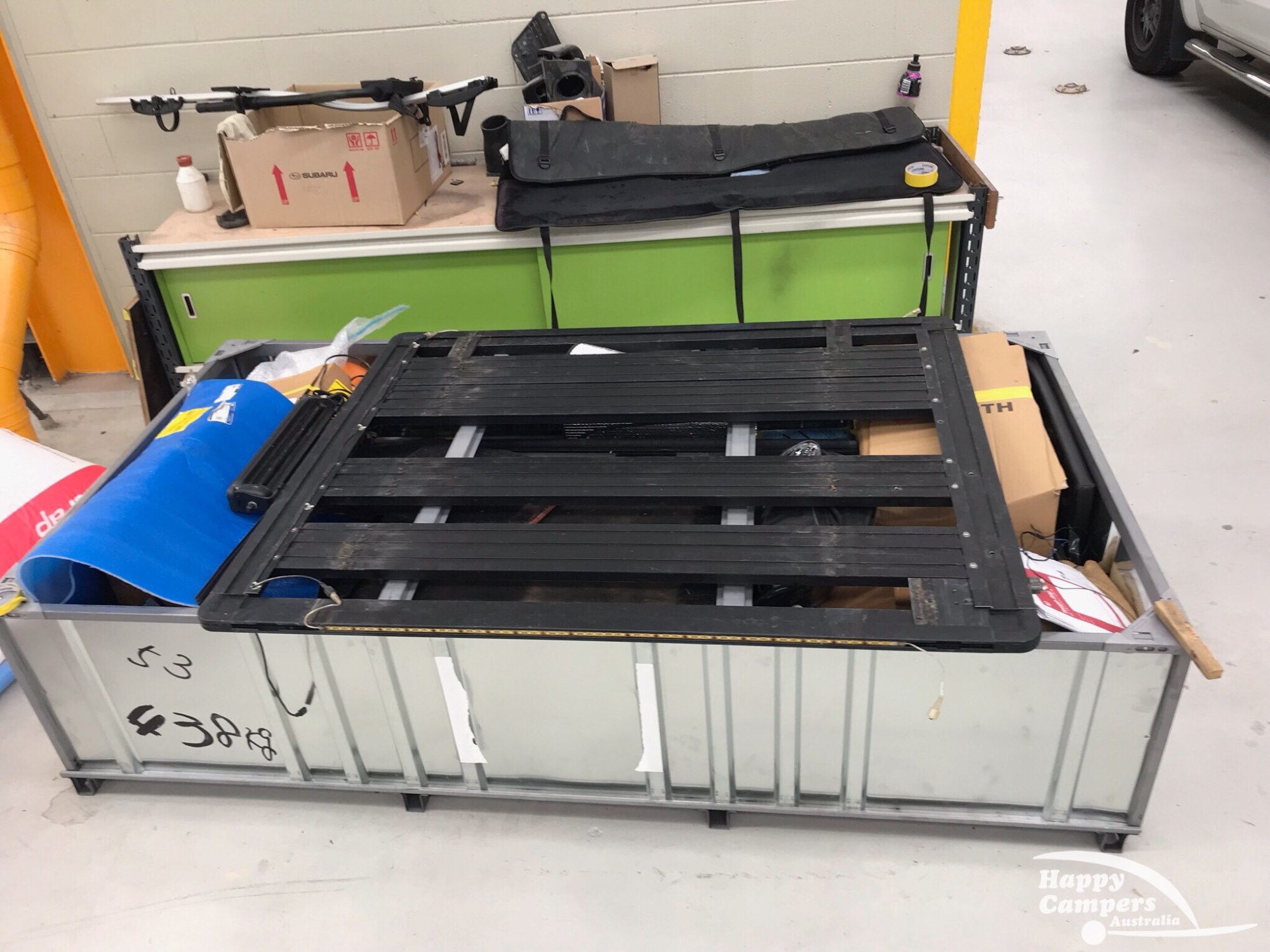 Our belongings from the old vehicle were shipped from Tasmania.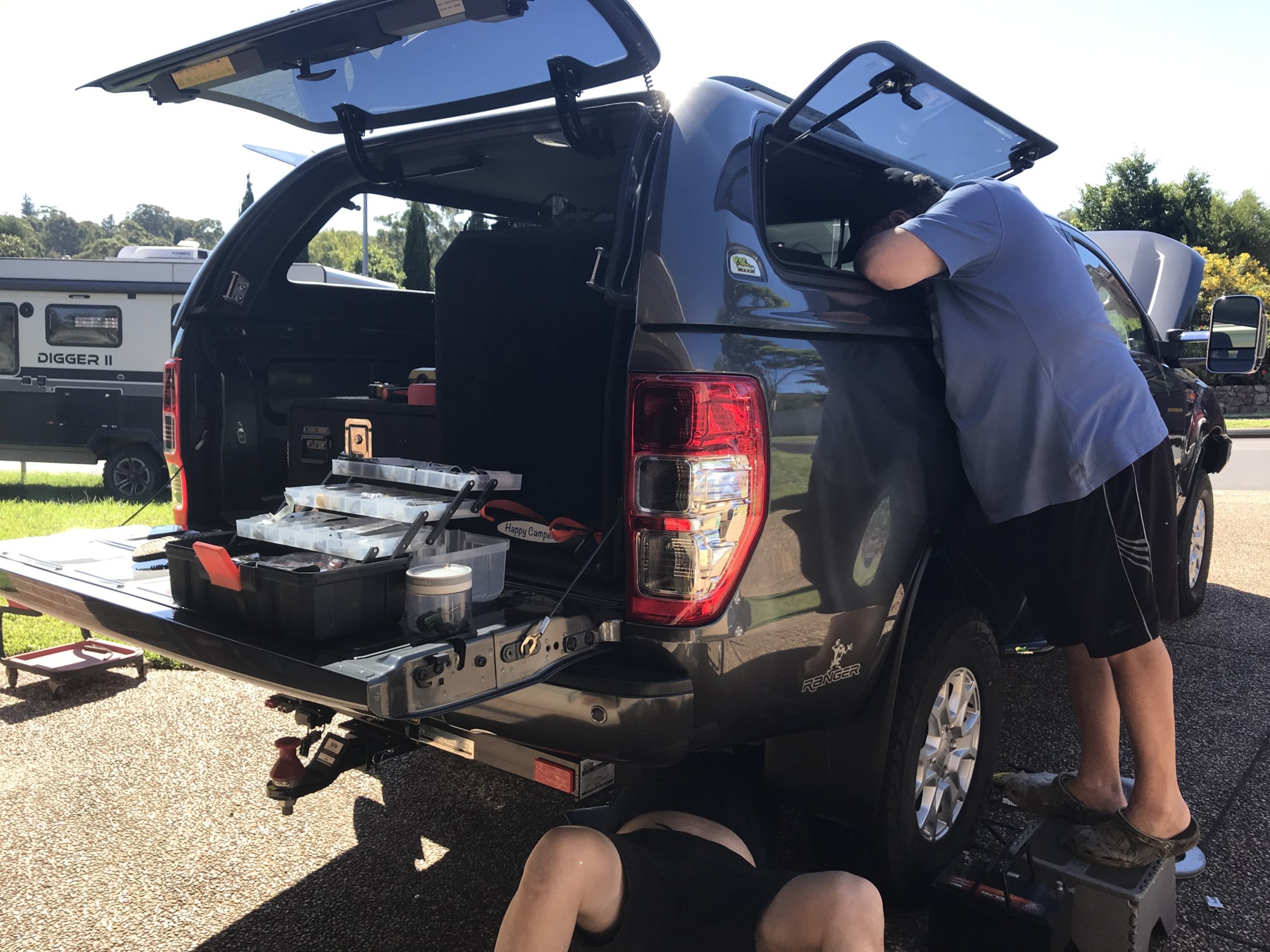 Making progress with adding our belongings to the new vehicle.
Our Western Australian loop will be cut short. Given that we will have lost six weeks we need to follow the weather. We will still visit WA soon, but wont have time to see it all. The positive here is that we will need to go back. We will need to see southern WA early next year. Hopefully our travel funds will extend that long. We initially were hoping to travel until January 2020 until we need to find work. If we stay under budget we might be able to tour southern WA before we find work.
Who knows?
But there is no way we are ready to go back to "regular work" soon, Whatever that is????
Our first six months on the road has been amazing, although very stressful and challenging at the same time. I am a planner, I don't like surprises, my plan has been disrupted. We are thankful to not be hurt after the major accident and we are super thankful that Glenns health issue was minor, albeit extremely painful. It is inconvenient, and will cost us time, but in the big picture, he will be back to normal real soon.
Lookout Australia. We have a lot more of you to see!
We hope you continue to enjoy following us as we embark on our Third Clover Leaf around this beautiful country! See you out there somewhere!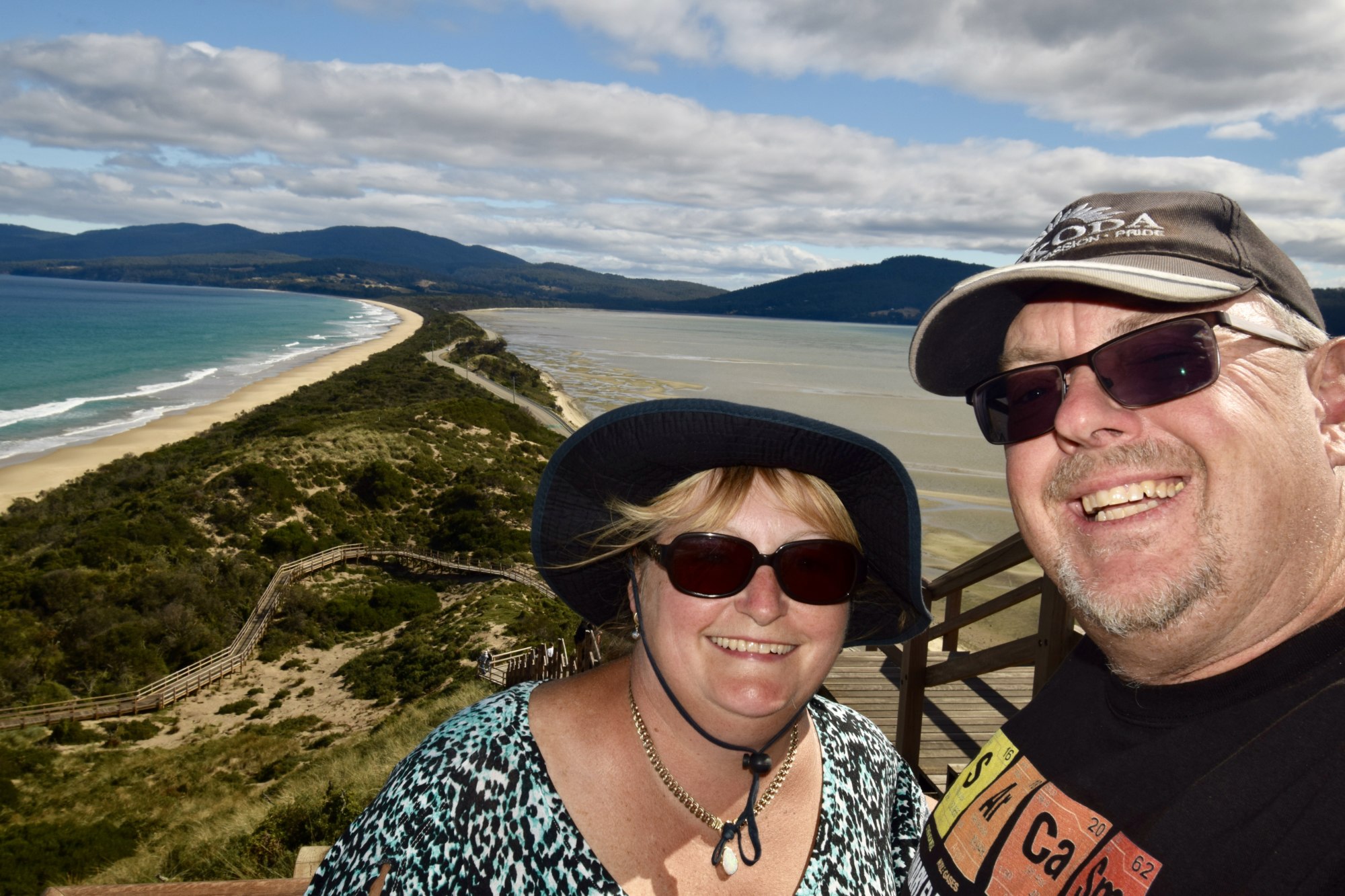 One of my favourite shots from our first six months. This was taken on Bruny Island, Tasmania.
We cant wait to see where the next 6 months take us!